Pistons look to shake off last-second Lakers shock
(Agencies)
Updated: 2004-06-10 10:01
The Detroit Pistons returned home vowing to shake off Kobe Bryant's last-second, game-tying 3-pointer and Los Angeles Lakers' Game 2 overtime win that evened the NBA Finals.
"The hangover was last night," Pistons coach Larry Brown said Wednesday. "That's over. We went to L.A. and gave ourselves a chance to win two games against a great team. That's the way we're going to look at it."
Bryant and Shaquille O'Neal combined for all of the Lakers' points in overtime and Los Angeles won 99-91.
The series shifts to The Palace of Auburn Hills for games Thursday, Sunday and Tuesday.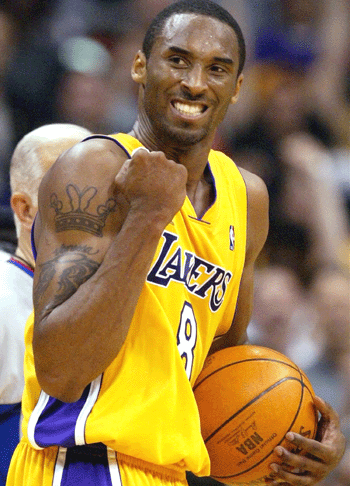 Los Angeles Lakers' Kobe Bryant celebrates as the game ends with the Lakers defeating the Detroit Pistons 99-91 in overtime during Game 2 of the NBA Finals in Los Angeles, June 8, 2004. Bryant was the high scorer with 33 points, and scored the game-tying shot in regulation. [Reuters/file]


The 3-pointer Bryant launched over high school rival Richard Hamilton left some wondering if the All-Star should have gotten a chance to get the shot off.

After the game, Brown had to defend his decision to not foul Bryant -- or O'Neal, who unexpectedly took the inbounds pass -- before Bryant tied the game with just over two seconds left.

The Pistons defended their Hall of Fame coach on Wednesday and placed the blame on themselves.

"Coach is always going to take a bulk of the criticism, but Coach ain't hitting no shots and Coach ain't making no turnovers," center Ben Wallace said.

The Pistons led 89-83 before O'Neal scored on a putback and free throw with 35.9 seconds to go, followed by Bryant's 3-pointer.

"We should have grabbed a couple of more rebounds before that play (Bryant's 3) happened," forward Rasheed Wallace said. "We should have made a couple of shots before that play happened."

The Pistons might have had their spirits broken by Bryant and the Lakers in Game 2, but otherwise they appear to be in much better shape than Los Angeles. The Lakers are nursing injuries to Karl Malone and Derek Fisher.

Fisher is hobbling with a sore right knee and has trouble driving the lane or guarding the most athletic opponents. Malone sprained the medial collateral ligament in his right knee early in Game 2 but played 39 minutes.

He would not commit Wednesday to playing in Game 3, but Lakers coach Phil Jackson said he expected to have him in the lineup -- perhaps wearing a knee brace.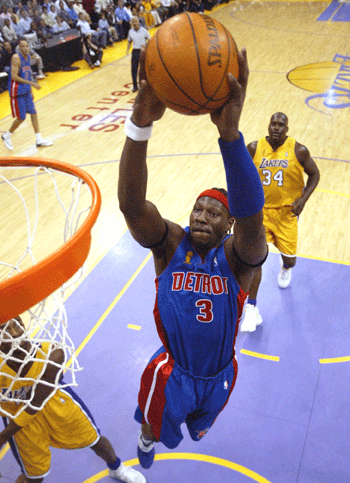 Detroit Pistons Ben Wallace slam dunks past Los Angeles Lakers Shaquille O'Neal during Game 2 of the 2004 NBA Finals at the Staples Center in Los Angels, June 8, 2004. [Reuters/file]


Despite the devastating loss, the underdog Pistons have proved to be a much tougher opponent for the Lakers than most expected.

"We can play with anybody in the league and we're here," Rasheed Wallace said. "Granted they're a good team, but we ain't scared of nobody. I don't know why all you cats think we're scared of the Lakers or that the Lakers are this dominant force. We ain't scared of those cats, man."
Today's Top News
Top Sports News

Eleven Chinese workers killed in Afghan attack




State bank splits up in pilot reform




Beijingers rally around Olympic relay




Hu signs communique in Warsaw




Volkswagen auto partner of 2008 Olympics




Half of China's rich aren't spending