G8 considers inviting China, India, others
(Agencies)
Updated: 2004-06-10 09:12
Faced with the growing importance of developing countries, the rich club of G8 nations mulled different ideas on Wednesday for holding regular talks with countries like China and India.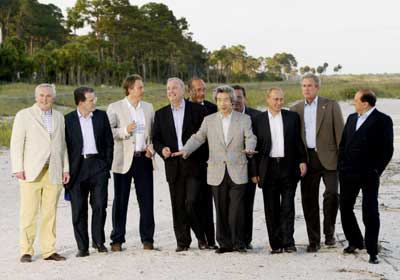 The G8 summit leaders (L-R) Irish Prime Minister Bertie Ahern, European Commissioner Romano Prodi, British Prime Minister Tony Blair, Canadian Prime Minister Paul Martin, French President Jacques Chirac, Japanese Prime Minister Junichiro Koizumi, German Chancellor Gerhard Schroeder, Russian President Vladimir Putin, U.S. President George W. Bush, and Italian Prime Minister Silvio Berlusconi stand on the beach at Sea Island, Georgia for official group photograph, June 9, 2004. [Reuters]



Canadian Prime Minister Paul Martin said he had floated the idea of holding summits of the Group of 20 -- which includes the Group of Eight leading industrial nations but adds other important countries -- in addition to G8 summits.


Italian Prime Minister Silvio Berlusconi said the leaders were thinking of inviting China and India into the G8 itself.

"It doesn't make much sense for us to talk about the economy of the future without two countries that are protagonists on the world stage," Berlusconi told reporters during a break in talks at the annual G8 summit.

The G8 comprises the United States, Japan, Germany, France, Britain, Italy, Canada and Russia.

Berlusconi said the leaders discussed the strength of the Chinese economy.

"But we said that we shouldn't be afraid of China because it is a huge consumer market and the idea was put forward to call China and India to join the G8, making it the G9 or G10," Berlusconi said.

A Canadian official said: "The G8 needs to acknowledge that global power and influence are not uniquely in the hands of the G8."

The issue of whether the G8 is inclusive enough comes up virtually every year, and another Canadian official said talks were only in a preliminary stage.

But Martin held out the possibility of a G20 summit next year.

"Canada's idea is gaining a lot of support. Is it for today? No. Could it be done at the beginning of next year? I think so. The possibility is improving," he said in French.

The G8 took root in 1975 when French President Valery Giscard d'Estaing invited what was then the Group of Six to a fireside chat about the world economy in Rambouillet, near Paris.

Canada and Russia joined later.
Today's Top News
Top World News

State bank splits up in pilot reform




10 Chinese killed in attack in Afghanistan




Beijingers rally around Olympic relay




Hu signs communique in Warsaw




Officials sacked over fake milk fiasco




Beijing building fire kills 9, injures 39