Bush seeks NATO role in Iraq, Chirac objected
(Agencies)
Updated: 2004-06-10 08:33
Seeking to build on rare harmony with Europe after a U.N. vote, U.S. President Bush on Wednesday proposed a wider but unspecified role for NATO in post-occupation Iraq. French President Jacques Chirac immediately objected.
Apart from the dispute over NATO's role, however, the once-bickering summit partners generally were in wide agreement a day after the U.N. Security Council unanimously approved a resolution steering Iraq's new government toward elections next year.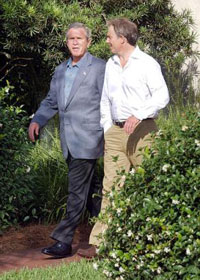 U.S. President George W. Bush, left, walks with British Prime Minister Tony Blair at the G-8 Summit in Sea Island, Ga., Wednesday, June 9, 2004. [AP]

The eight powerful countries, including Russia and France, endorsed Bush's idea of working toward limited political and economic reforms across the broader Middle East, but tied such an effort to resolving the Arab-Israeli conflict.

Bush also used the Group of Eight economic summit to introduce the new Iraqi president, Ghazi al-Yawer.

"I really never thought I'd be sitting next to an Iraqi president of a free country a year and half ago," Bush said in a picture-taking session with al-Yawer after the two met privately. "And here you are."

For his part, the Iraqi leader pledged to try to move his country "toward democracy. We are moving in steady steps toward it."

"We're determined to have a free, democratic, federal Iraq, a country that is a source of stability to the Middle East," al-Yawer said.

In their private meeting, Bush and al-Yawer discussed reconstruction in some detail and talked about Iraq's dealings with neighbors Syria and Iran, said a senior administration official present at the talks.

The president urged al-Yawer to get Iraqis with close Syrian ties to persuade Syria to do more to control its border and keep militants out of Iraq — even holding out the prospect of improved U.S. relations with Syria, said the official, who spoke on the condition of anonymity.

But Syria would also have to "step up" and show it was more responsible, the official said. Syria remains on the State Department's list of terrorist-supporting states.

The new Iraqi president did not say whether he wanted NATO troops in his country, said another U.S. official knowledgeable about the discussions.

Bush discussed the possible expanded role for the North Atlantic Treaty Organization during a meeting with British Prime Minister Tony Blair, his top Iraq war ally.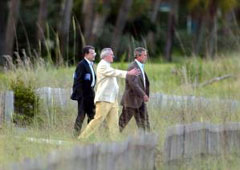 U.S. President Bush, right, European Union President Bertie Ahern, center, and European Commission President Romano Prodi, left, confer as they walk to the beach at the G-8 Summit on Sea Island, Ga., Wednesday, June 9, 2004. [AP]

"We believe NATO ought to be involved," Bush said with Blair by his side. "We will work with our NATO friends to at least continue the role that now exists, and hopefully expand it somewhat."

Blair agreed. "The next step in this is going to be for the new Iraqi government to sit down with a multinational force and work out how, over time, the Iraqi capability for security can be established and built up," he said.

But Chirac told reporters that, while he is "very much open to debate and discussion" of Bush's proposal, "I have reservations about this initiative."

"I do not believe it is NATO's purpose to intervene in Iraq," Chirac said. He said any NATO role could only be justified "if the sovereign Iraqi government were to ask for it."

Administration officials said they were not discouraged by Chirac's comments, and said there seemed to be much flexibility to find common ground between now and a NATO summit in Istanbul, Turkey, at month's end.

Sixteen of the 26 NATO members already have troops in Iraq and NATO itself provides logistical help for a Polish-led division there.

The Bush administration would like the alliance take on additional duties, such as training Iraqi's new army. It would also like NATO to send forces, but recognizes that is unlikely given strong German and French opposition.

"There are going to be some constraints, obviously," Bush said. "A lot of NATO countries are not in a position to commit any more troops — we fully understand that."

Attending the summit are the leaders of the world's seven wealthiest democracies — the United States, Britain, Canada, France, Germany, Italy and Japan — plus Russia.

In addition to the Iraqi, Bush invited to a summit lunch the leaders of four other Arab nations — Algeria, Bahrain, Yemen and Jordan — and the leaders of Afghanistan and Turkey.

He told them: "You will write your history. We're here to help."

As summit host, Bush used the forum to push his initiative to promote "freedom, democracy and economic growth" throughout the Middle East. But the proposal stirred suspicion of U.S. meddling both in the region and in Europe.

Even as they endorsed a scaled-down version of the plan, the leaders stressed that it should not be seen as outside imposition.

France is "very attentive to the fact that reforms cannot be imposed, that we must persuade, talk and cooperate all while respecting the diversity of people, their histories, cultures and the problems that they face," Chirac said.

Turkey, Yemen and Italy agreed to sponsor later this year the first of regular conferences on political reform.

At a morning session on the economy, German Chancellor Gerhard Schroeder raised concerns about high oil prices. He said there should be discussion about how to make oil markets more transparent.

The summit has been overshadowed in part by preparations for the funeral of former President Ronald Reagan. Bush has talked with his speechwriters about the eulogy he will deliver on Friday, said his communications director, Dan Bartlett. Several G-8 leaders plan to attend.

The summit on the barrier island has been largely peaceful, though protesters had some minor confrontations with police Wednesday. In Brunswick, the closest mainland city to the summit, a march by about 200 protesters led to minor shoving with riot police. A few hours earlier, 20 people marched through downtown Savannah as several shouted at a line of 35 riot officers carrying shields and batons.
Today's Top News
Top World News

State bank splits up in pilot reform




Beijingers rally around Olympic relay




Hu signs communique in Warsaw




Officials sacked over fake milk fiasco




Beijing building fire kills 9, injures 39




Lottery scandal lands six officials in jail