Eating McDonald's, making millions
(Agencies)
Updated: 2004-06-10 08:28
Only in America could a guy take a movie that cost a mere $65,000 to produce and use it to embarrass and wig out a multibillion-dollar international corporation.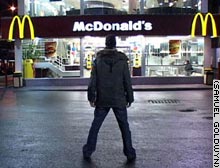 Morgan Spurlock stares at the place where he'll be spending the next month's mealtimes: McDonald's.

But that's just what Morgan Spurlock has done with "Super Size Me," the Sundance sensation that has already taken in $6.2 million from a tiny number of theaters.

"Super Size Me" is the indie feature documentary that chronicles writer-producer-director-star Spurlock's own deteriorating health upon embarking on a 30-day regimen during which he ate only McDonald's food for breakfast, lunch and dinner.

Spurlock's weight ballooned. His cholesterol zoomed. His liver began to rebel. His libido went south. But perhaps most surprising, in the wake of his fast-food binge, Spurlock's waistline wasn't the only thing that fattened. So has his wallet.

Somewhat astonishingly, "Super Size Me" spent three weeks in the box office top 10 despite playing on fewer than 200 screens for most of its run. It was finally rolled out past the 200-screen mark on Friday and is, to all appearances, an ongoing massive marketing headache for the Golden Arches.

The 33-year-old Spurlock -- heretofore known solely as creator and host of the 2002 MTV series "I Bet You Will" -- is now officially the "It" guy of the industry. He's got a pilot deal with FX for an hourlong reality series titled "30 Days" that plants an individual in a completely different lifestyle for a month, playing off the "Super Size Me" conceit.

Then there is Spurlock's book deal with Putnam for an as-yet untitled fast food-themed tome that he hopes will answer a lot of the questions raised in the film.

There are reports that McDonald's may be sponsoring purportedly unbiased spokespeople to discredit Spurlock's assertions in "Super Size Me." The filmmaker never claims to be doing a balanced, in-depth investigation of Big Fast Food. Mostly, he plays it for laughs, even if there is obviously a larger serious nutrition issue at its core.

'A really good bad idea'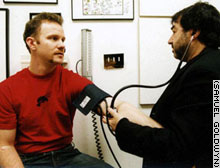 Spurlock gets his vital signs checked. During the course of making "Super Size Me," he gained weight and his cholesterol shot through the roof.

In a telephone interview last week, Spurlock -- who paid for "Super Size Me" out of his own pocket, with the money he accumulated from "I Bet You Will" -- discussed what inspired him to make his film.

"It was Thanksgiving 2002, and I'm sitting on my mother's couch on this day we all honor gluttony and sloth," he recalls. "I'm watching TV, and this reporter comes on talking about the lawsuit the two girls had filed against McDonald's for making them fat and sick."

Spurlock acknowledges he thought the suit was baseless at first, as did everyone else.

Spurlock gets his vital signs checked. During the course of making "Super Size Me," he gained weight and his cholesterol shot through the roof.

"Then I started hearing about how the fast food industry targets kids from such a young age and how unforthcoming they are about their nutrition information, and I thought there was a basis for an argument there," he admits.

"I figured if McDonald's food really was nutritious and good for me, as its spokespeople claimed, then I should be able to eat it all day and night and be fine -- right?"

Well, no. And so a film idea was born, to the horror of Spurlock's vegan girlfriend (also featured in "Super Size Me"). But no one, least of all Spurlock himself, could have predicted the nerve his film would touch.

"As one family member told me, it's simply a really good bad idea," he says. "I guess our timing was perfect. And that's really exciting."

It's also an awful lot of fun to see a gargantuan mega-corporation like McDonald's squirm amidst such a concussive PR drubbing.

"Yeah, I've definitely enjoyed that," Spurlock admits. "It's interesting to watch these obviously junk food-funded lobby groups come after the movie. But it's like, if a little guy like me is viewed as such a threat, you've got to wonder what these people are so afraid of."
Today's Top News
Top Life News

State bank splits up in pilot reform




Beijingers rally around Olympic relay




Hu signs communique in Warsaw




Officials sacked over fake milk fiasco




Beijing building fire kills 9, injures 39




Lottery scandal lands six officials in jail