Beijing building fire kills 9, injures 39
(Xinhua)
Updated: 2004-06-10 01:04
Nine people were killed and 39 others were injured in a fire that broke out in a building in Beijing around 4:00 pm yesterday, according to Xinhua News Agency.
At about 5:00 pm the fire in a building on the grounds of the Jingmin Mansion compound near the North Fourth Ring Road had been put out.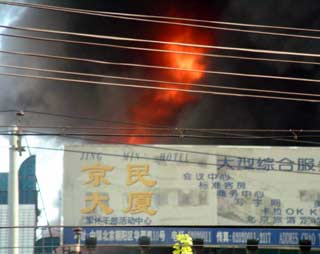 Witnesses and local residents said the fire might have been caused by explosions in the building.
"I heard sounds of explosions, just like firecrackers," said a resident who lives in a residential building west of the building.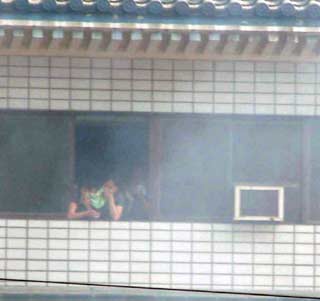 crying for help
Flames poured out of the windows of the four-storey companion building and the heat was felt by the people in the nearby residential buildings, which is less than 10 metres from the site of the blaze, according to a witness who only identified herself as Wang.
"Even the glass on the windows of my home became hot," said Wang, who lives on the sixth floor.
According to Wang, the first two storeys of the inflamed building are for swimming, the third one is a dining hall, and the fourth is a dormitory for employees in the mansion.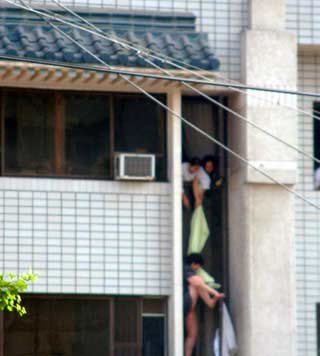 climbing down the building
While the fire was raging, Wang saw many faces appear at the windows on the fourth storey, with one man trying to reach the ground by climbing down a sheet tied to the window, Wang said.
"But the sheet broke and he fell," she added.
She said another one lay outside of the building with a bloody face.
Preliminary investigation showed spark from electric welding led to the fire, police said.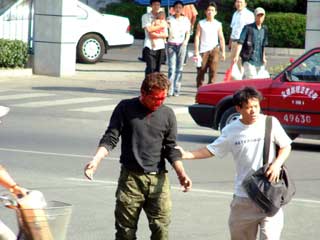 an inured man
Today's Top News
Top China News

State bank splits up in pilot reform




Beijingers rally around Olympic relay




Hu signs communique in Warsaw




Officials sacked over fake milk fiasco




Nation hails new Iraq resolution




DaimlerChrysler to invest 1b euros in China