Beijingers rally around Olympic relay
(China Daily)
Updated: 2004-06-09 23:38
The Beijing leg of the Athens 2004 Olympic torch relay ended in fanfare Wednesday, ahead of its departure for New Delhi Thursday.
The relay started its trek through the city at Tian'anmen Square Wednesday morning.
Yu Zaiqing, member of China's International Olympic Committee (IOC) and Vice-President of the Chinese Olympic Committee, received the Olympic flame from Li Changchun, a member of the Standing Committee of the Political Bureau of the Chinese Communist Party Central Committee.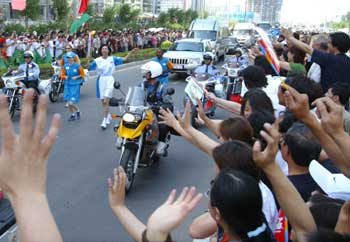 Residents wave to the Olympic torch beaer during the relay in Beijing June 9, 2004. The flame will travel to 33 cities in 34 days and for the first time reach all five continents. [Reuters]
Li lit Yu's torch with fire from a lantern brought to Beijing aboard a Greek-chartered plane on Tuesday.
Then, State Councillor Chen Zhili fired the starting gun. At 9:30 am Yu, as the first torchbearer, began his journey of about 400 metres to kick off the long-awaited torch relay in the Chinese capital.
Liu Qi, president of Beijing Organizing Committee for the Games of the XXIX Olympiad, delivered a speech at the starting ceremony in front of the Great Hall of the People in the heart of Beijing.
"The Olympic flame will sow the seeds of peace, friendship and progress in the hearts of the Chinese people, especially among the youth," said Liu. "It will continue to inspire us as Beijing prepares for the 2008 Olympic Games."
Along the relay route, the flame was passed from torch to torch in a 55-kilometre-long marathon, zigzagging through a host of icons of modern and historic Beijing which showcased the city's resplendent culture as well as its metropolitan charm.
"When we pass the torch nearer to Athens, we are expressing our sincere hope for a successful Athens Olympic Games," said the first torchbearer Yu. "I hope Chinese athletes will perform well at the Athens Olympic Games in August."
Chinese basketball player Yao Ming, who was selected by the Chinese Olympic Committee, was the last torchbearer to run. The climax came when Yao ignited a ceremonial cauldron in the Summer Palace, the end of the relay, where a gala show was held to conclude the two-day event.
Andrew Dunscomb, Athol press chief, Wednesday sang high praise for the organization of torch relay in Beijing and residents' participation.
"It is pretty good," he said after the whole procedure was completed. "It is even unbelievable that so many people took part in the torch relay. Wherever the torch goes, there are many people around it. It is great."
Today's Top News
Top China News

Eleven Chinese workers killed in Afghan attack




State bank splits up in pilot reform




Beijingers rally around Olympic relay




Hu signs communique in Warsaw




Volkswagen auto partner of 2008 Olympics




Black-out, price leverage to save electricity