Officials sacked over fake milk fiasco
(China Daily)
Updated: 2004-06-09 23:38
A number of local officials in Fuyang, a city in East China's Anhui Province where 12 infants died after consuming fake milk powder, were ordered to resign and have received punishments within the Party and administration after the Ministry of Supervision concluded its investigation of the incident.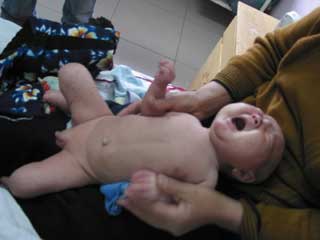 A baby suffers from malnutrition after drinking cheap milk powders. [Xinhua]
Vice-Mayor Ma Mingye, who was responsible for commercial and industrial affairs in the city, Fuyang Industry and Commerce Bureau Director Zhou Yisheng, and Ding Liling, vice-director of the local bureau of public health, were all ordered to resign.
They have also received special demerits for their records, a severe administrative punishment which might effectively ruin their official careers, and also got serious warning within the Party ranks.
The People's Daily website Wednesday reported that the punishments were given in accordance with the Regulation on Disciplinary Punishments within the Communist Party of China and the temporary regulation on civil servants following a thorough investigation by a group of inspectors dispatched by the Ministry of Supervision.
Findings from the investigation concluded that huge quantities of inferior milk powder that generally had little nutritional value entered the rural markets in Fuyang through wholesale markets in Hefei, Bengbu, and Fuyang of Anhui Province and Zhengzhou of Central China's Henan Province before April.
Feeding babies with this kind of milk powder had caused stagnant growth and weakened the immune systems of the infants, and further led to syndromes associated with different diseases and even death.
Fuyang alone had witnessed 12 cases of infant deaths and another 189 cases in which the infants were malnourished to varying degrees.
The inspectors concluded that the Fuyang government should be held responsible for its oversight and lax supervision over the market. Fuyang Mayor Liu Qingqiang was given a special demerit to his record.
Local bureaux of industry and commerce and public health had checked the market and warned consumers by publishing a blacklist of substandard milk powder since the first complaint was launched last May. But the inspection group found that the markets were not streamlined thoroughly enough and related laws and regulations were not enforced strictly enough by the local administration to remove the threat posed by the fake milk powder.
Yang Shuxin, director of the local bureau of fair competition, has been removed from his post and expelled from the Party. Local public prosecutors are also probing into his alleged acts of manipulating laws for his own benefit.
The Ministry of Supervision has pledged that it will continue investigations into cases of oversight in this incident in order to safeguard the safety of the people.
The provincial administration of Anhui has urged its officials to learn a lesson from this incident and faithfully honour their duties.
Today's Top News
Top China News

State bank splits up in pilot reform




Beijingers rally around Olympic relay




Hu signs communique in Warsaw




Officials sacked over fake milk fiasco




Nation hails new Iraq resolution




DaimlerChrysler to invest 1b euros in China