Lottery scandal lands six officials in jail
By Ma Lie (China Daily)
Updated: 2004-06-09 22:38
Six government functionaries involved in a lottery scandal were detained on Tuesday in Shaanxi Province in Northwest China.
Among them were sports lottery directors Jia Anqing and Fan Hong, who were arrested on charges of malfeasance, said local police sources.
Jia, who was in charge of the Shaanxi Provincial Lottery Administration Centre, and Fang, who led the Xi'an municipal centre, were ordered to resign late last month.
Another four officials, including Zhang Yongmin, deputy director of Shaanxi Provincial Sports Lottery Administrative Centre, and public notary Dong Ping, were also detained, local police said.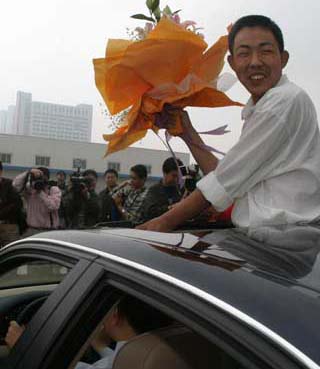 Liu Liang smiles on top of his hard-won BMW car in Xi'an, Northwest China's Shaanxi Province June 4, 2004. In a 17 million (US$2 million) China Sports Lottery in Xi'an in March, 17-year-old Liu drew a winning ticket that offered a prize of 120,000 yuan (US$14,500) and a new BMW car worth of 480,000 yuan (US$58,000). But the lottery center claimed that Liu held a fake lottery ticket, prompting Liu to take the center to court. After investigations, The court found that Yang Yongming, contractor of the lottery ticket selling cheated on four top prizes. Yang and 4 other suspets have been arrested by the local police. On Friday, the Xi'an lottery center authorities declared the lottery ticket Liu held was valid and apologized for the scam. [newsphoto]
"After a two-week-long careful investigation on the case, we have made it clear that some functionaries were negligent during sales of the March lottery selling," said Zhang Qijun, an official from Shaanxi Provincial Committee of the Communist Party of China.
Yang Yongming, a businessman hired to sell 60 million yuan (US$7 million) worth of sports lottery tickets attempted to embezzle the top prizes, four BMW325i cars, authorities said.
He was arrested in May along with five partners after the scam was exposed.
The subsequent investigation, however, found widespread problems with the city's lottery system.
As many as 100 people were involved in the case.
Zhang said his team will further look into the scandal to see whether lottery sales from previous years were also tainted.
Fifty people cheated out of a chance to win the top prize, a BMW car, will get their shot, Zhang said.
Today's Top News
Top China News

State bank splits up in pilot reform




Beijingers rally around Olympic relay




Hu signs communique in Warsaw




Officials sacked over fake milk fiasco




Nation hails new Iraq resolution




DaimlerChrysler to invest 1b euros in China