Musicians sink roots in reality
(China Daily)
Updated: 2004-06-09 08:50
Beijing is not a city where life is easy, yet people from all over China keep flowing in, bringing with them their dreams, dialects and the folk songs of their hometowns.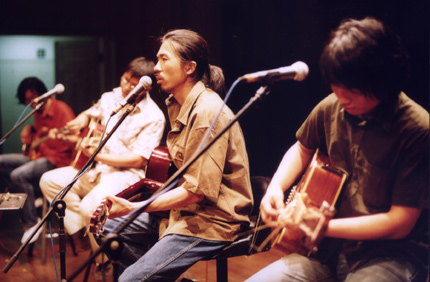 Hang Tian (centre) performs at the "Beijing Folk Rock" concert in Singapore. [China Daily]

Yang Yi and Hang Tian are just two such people. In Beijing, the two self-taught musicians have both been pursuing a music that is more attuned to the realities of everyday life than is the music of most of today's pop groups.

Their songs were most recently heard in the Victoria Concert Hall in Singapore on June 1 and 2, in two shows titled "Beijing Folk Rock," presented by the Singapore Arts Festival.

Though they shared the same show, one playing the first half and the other the second, the music of Yang and Hang is not in the same style. Yang plays a guitar and harmonica to accompany his own ballad-singing, while Hang performs with a band that uses guitar, bass and jingle-ring. However, they both play folk rock. The difference is that Yang puts more emphasis on folk while Hang is stronger on rock.

It is obvious that Yang and Hang have been deeply influenced by American legend Bob Dylan, something they have both acknowledged. Hang even has a song called "Tribute to Curly-Haired Singer Bob Dylan," in which the last line of every verse contains the title of a Bob Dylan song: "Don't Think Twice, It's All Right," "Tomorrow Is a Long Time," "Just like a Woman" and "Forever Young."

Their show can be seen as somewhat similar to Bob Dylan's famous 1966 concert at the Royal Albert Hall in Great Britain, in that the first half presents a simple form with one person singing to acoustic guitar and harmonica, and the second half features a band with plugged-in sound.

However, Yang and Hang's music do not copy Dylan's. Under the Western form of folk rock and blues lurks the Chinese ballad tradition. Yang's performance features the traditional northern Shaanxi Province folk song "Painting the Fan Covers" (Hua Shan Mian), and Hang uses the erhu (a two-stringed bowed instrument) in his number "It's Yours."

With their roots in South and North China, Yang and Hang have adopted the form of folk rock to express their musical ideas, but they have both developed their own characteristic styles.

Yang, 35, who grew up in a small town in northern Guangdong Province of South China, chose to make a living by busking 12 years ago.

"I wrote many of my songs when I was busking," Yang said. "I hope audiences catch a glimpse of common Chinese people's lives through these songs."

The characters depicted in Yang's songs include vegetable vendors, farm workers and homeless people. He knows about these people and he loves them, for he himself used to do the things he sings about in his songs:

"We take our rice bowls to the city, leaving those urban people unemployed.

Blacksmith, handyman, hawker, collecting and selling scrap...

We can do anything!"

Born in 1972 in the countryside in Shandong Province in East China and growing up in a mining area in Hebei Province, Hang also knows deeply about the hardship in people's lives.

"In Chinese society, which is undergoing dramatic changes, some people become wealthy, but there are always people who are neglected," Hang said.

Thus he came to write "It's Yours," a song dedicated to Chinese farmers:

"The sun is warm and pleasant after the rain passes

The happiness of the harvest is always accompanied by worry

There will always be bugs to eat a portion of the profit

There will always be people to take away your freedoms

Even goat horns can pierce silence

The water in a stream can move rocks

Your wrinkles shouldn't only record your age

Your demands can make this land fertile

This land is yours

You don't need any other excuse

You should be able to control everything here

This isn't an irrational demand."

The song is reminiscent of another great US folk singer Woody Guthrie's "This Land Is Your Land," but it carries a rather heavier feeling, which is strengthened by an erhu solo.

In the mid-1990s, when Hang began to make his music, the music scene in China was dominated by superficial pop love songs and rock music with decadent and vacuous themes.

"I try to write meaningful lyrics and adapt Western folk rock to the tonal Chinese language," Hang said. "My hope is that kids living in small towns and villages will hear my music and really like it, just like I used to listen to music when I was younger."

In the process of creating his own language of Chinese folk rock, Hang has gone through some changes in style. His first album "My Heart of Blues," released in 1999, was mainly blues and root rock, and some of the songs blended in elements of funk and gospel. The album created a generally carefree mood, as can be seen in such titles as "Don't Think Too Much," "My Heart Is a Fried Broad Bean" and "We Are All Happy Cows and Sheep."

When he released his second CD "Cold Water on My Head" two years later, the influence of blues was still there, but the music had turned more toward rock, country and folk.

In "Don't Treat Me Like a Stone," a new song that he performed at the Singapore concert, he used the Chinese pentatonic scale together with the Chinese rhetorical method of "xing," in which one refers to a parallel phenomenon before turning to the real theme: "Can a broken table be repaired? Can a rusted clock still work? Is a guava with an open mouth the ripest one? Is there no way to prevent our love from ending?"

Compared to Yang, who expresses the heaviness of life in a simple form, Hang's music is characterized by a more optimistic quality. After all, he used to be crazy about blues, which gave him a lot of inspiration and endowed him with a spirit of "seeking joy amidst hardships." Along with its ironic and self-mocking lyrics, Hang's music is full of lively pulsations.

"In the mind of most Singaporean people, rock music is a very Western concept," said See Choon Fei, a young man in the audience at the June 1 concert. "It is refreshing to hear folk rock sung in Chinese with words like 'cows,' 'sheep' and 'table'."

Such remarks indicate approval of the ideas of Hang, who claims to try his best to be accessible with melodious music and lyrics that are easy to understand.

In their "Beijing Folk Rock" concerts, Yang and Hang presented Chinese folk songs in a contemporary form. The audiences could hear the sounds of common Chinese people from their songs, just as they experience the joy, anger and sadness of generations of people when listening to traditional Chinese folk songs.

Amid the constant changes in musical fashion nowadays, Yang and Hang are of irreplaceable value, for in their music they do not escape reality; rather, they depict it.
Today's Top News
Top Life News

Agree to have one child? Get a nice cash reward




Nuke talks in `substantial period'




Ex-factory prices of gasoline, diesel raised




President Hu visits Poland




HK banks urged to check for terrorist links




CAAC approves two private airlines