US wants 'most' Iraq debt forgiven
(Agencies)
Updated: 2004-06-09 08:45
The Bush administration believes most of Iraq's debt must be forgiven to ensure the country's stability but will not specify a percentage, a U.S. official said on Tuesday.
The official, speaking on condition of anonymity at the Group of Eight summit, said the International Monetary Fund had circulated to creditors "a very detailed debt sustainability analysis" for Iraq.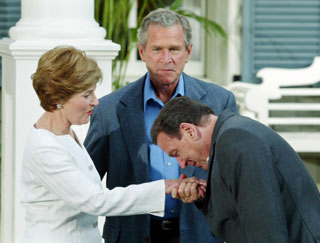 German Chancellor Gerhard Schroeder (R) leans over the to kiss first lady Laura Bush's hand as U.S. President George W. Bush (C) looks on during the arrivals for the social dinner at the G8 summit meetings in Sea Island, Georgia, June 8, 2004. The first day of the three day summit saw the world leaders hailing the United Nations vote on Iraq sovereignty.[Reuters]

Iraq's debts are estimated at about $120 billion, and Washington was expected to press Iraq's foreign creditors to forgive at least 80 percent of it as an Iraqi caretaker government prepares to take up the reins at the end of June.

"In our view, I think it's clear it shows the need for the reduction of the vast majority of Iraq's debt," considering its future oil revenues and costs of rebuilding the war-wracked country, said the official.

Iraq can potentially generate about $20 billion of oil revenues annually, but it has little other economic capacity currently, the official noted.

"Just the numbers show that in order to get a sustainable debt situation in Iraq, you're going to have to reduce the vast majority of that debt," said the official, who spoke as G8 leaders arrived for a three-day summit 80 miles away at Sea Island, Georgia.

The IMF has given members of the Paris Club -- a group of sovereign creditors that meets in Paris to consider requests by debtors to postpone debt repayments or reduce service obligations -- a detailed study of Iraq's financial condition.

DEBTS 'STAGGERING'

"When you think about it, you've got about $120 billion in debt for Iraq and you have an economy that can produce about $20 billion in oil and that, for the near term, is its GDP (gross domestic product) so the debt-to-GDP ratio is staggering," the U.S. official said.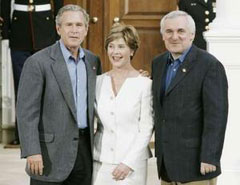 US President George W. Bush and first lady Laura Bush (C) welcome European Union President, Prime Minister of Ireland Bertie Ahern (R) to the social dinner at the G8 summit on Sea Island, Georgia, June 8, 2004. The first day of the three day summit saw the world leaders hailing the United Nations vote on Iraq sovereignty. [Reuters]

A senior Canadian official who had seen the IMF analysis of Iraq's indebtedness said it supported a view that hefty relief will be needed.

"The IMF document spoke of the need for more than what has been viewed as substantial, which is 66 or 67 percent," the Canadian official said. "The debate will be of course how much more."

Exactly how far the political leaders at Sea Island can carry the discussion about Iraqi debt forgiveness forward at this week's summit was unclear, since the IMF analysis is a recent one that is under study.

"There's a (G8) commitment ... to work to resolve the Iraqi debt issue by the end of this year and we'll be working with the Paris Club and with non-Paris Club countries to reach that goal," the U.S. official said.

Canada indicated support to forgive the vast majority of Iraqi debt, while German Chancellor Gerhard Schroeder said Germany was willing to make a "substantial" contribution, although he refused to be specific.

But the biggest creditors, France and Russia, favor a smaller reduction in Iraq's obligations since they want to be repaid and because Iraq's oil resources are seen by some as substantial enough to warrant it paying a larger portion.

The U.S. official played down the idea that one way to smooth the way for Iraqi debt forgiveness would be more generous treatment for developing nations that qualify for help under an expiring debt-relief program called the Highly Indebted Poor Countries initiative, or HIPC.

The Bush administration is still considering how to handle HIPC, including the option of extending it beyond its scheduled expiration in December, said the U.S. official.

A spokesman for British Prime Minister Tony Blair also insisted Iraqi debt relief and HIPC were "separate issues" and that Britain favors both.

In London, a British Treasury source said Britain would press for an extra $1 billion for HIPC at the summit.

"It's important that multilateral debt relief gets on the G8 agenda alongside proposals for the expansion of bilateral debt relief and increases in development aid," the British Treasury source said.
Today's Top News
Top World News

Agree to have one child? Get a nice cash reward




Nuke talks in `substantial period'




Ex-factory prices of gasoline, diesel raised




President Hu visits Poland




HK banks urged to check for terrorist links




UN endorses Iraq sovereignty transfer