France pledges to back UN resolution on Iraq
(Agencies)
Updated: 2004-06-08 15:28
France said on Tuesday it would back a United Nations resolution on Iraq's future after the United States and Britain made changes that addressed its concerns.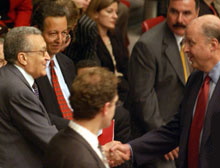 UN envoy Lakhdar Brahimi, left, shakes hands with John Negroponte, the U.S ambassador to the U.N., prior to the Security Council session. [AP]

Foreign Minister Michel Barnier said France, which has the power of veto on the U.N. Security Council and opposed the war in Iraq, was still not fully satisfied with the resolution.

But he told France Inter radio: "This will not prevent us giving a positive vote in New York to constructively help find a positive way out of this tragedy."

Most diplomats expect a unanimous 15-0 vote when the council meet later on Tuesday. U.S. President Bush and French President Jacques Chirac indicated after talks in Paris on Saturday they expected the resolution to be passed soon.

The resolution gives international legitimacy to a new Iraqi interim government and authorizes a U.S.-led multinational force, now at 160,000 troops.

Barnier said he was not sure Washington had listened to France's reservations about "what will happen in terms of stability."

But he added: "This is not sufficient reason for us to oppose this resolution."
Today's Top News
Top World News

Eye on economy: Ample room for fiscal manoeuvring




Summer grain output to rise after years




7 million commit to honesty in college exam




DPRK to increase nuke deterrent




Al Qaeda warns of attacks on western airlines




Minister urges assent to market status