7 million commit to honesty in college exam
By Guo Nei (China Daily)
Updated: 2004-06-08 00:07
This year's national exams for college admissions are not only tests on the participants' academic performance: They're a test of credibility.
All 7.23 million applicants this year have signed a letter pledging to abide by the rules set up by the national education authority for the exam.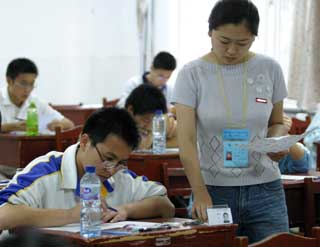 A student takes the annual college entrance examination as a superintendent checks his identification papers in Jinan, Shandong Province June 7, 2004. About 7.23 million high school graduates begin to sit the two-day examinations across China. [newsphoto]
Anyone violating the rules will have their scores immediately annulled, a regulation issued by the Ministry of Education last month.
The education authorities will keep a file recording information on cheaters. The file will open to public enquiry.
A middle-aged businessman said cameras have been set up in the classroom where his son will sit for the exams.
Beijing has invested 3 million yuan (US$362,757) to ensure test secrecy.
"This is an important lesson for the students to learn before they enter the society,'' said Zhao Wen, deputy secretary of the Party committee of Capital Normal University.
Zhao said education on credibility, is a critical quality in a market economy, and noted it had been somewhat missing under the planned economies of the past.
He said signing the letters might be viewed as preparing students for their futures in a market economy.
The number of applicants this year is 1.1 million more than last year. For the first time, rural students account for 55 per cent of those being tested,
The exam is being held one month earlier than last year to avoid the July heat wave, and to make participants more comfortable.
Today's Top News
Top China News

Summer grain output to rise after years




7 million commit to honesty in college exam




Ample room for fiscal policy manoeuvring




DPRK to increase nuke deterrent




Al Qaeda warns of attacks on western airlines




Minister urges assent to market status