Rescue work under way, 10 coal miners trapped
By Xiao Wang (China Daily)
Updated: 2004-06-07 21:03
The search continued Monday for 10 miners trapped underground in a coal mine 90 kilometres west of downtown Beijing.
It was still unknown whether the miners were alive Monday afternoon, a day after a mine tunnel collapsed.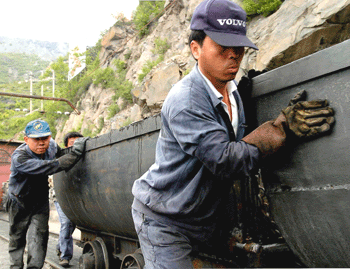 Rescue work is under way at the scene. [Xinhua]


Ten people were working in the east tunnel at the Da'anshan Coal Mine, in west Beijing's Fangshan District, around 1 pm when it collapsed, said Xinhua News Agency.

Another six people in the west tunnel were found unhurt.

Among the workers trapped were two safety inspectors.

The search for survivors was hampered by the possibility of a total collapse within the tunnel, said rescue workers.

The Beijing News reported the rescue work may last a few days, slowed down by very loose soil which may have been the cause of the collapse.

A 200-strong rescue team tried to drill towards the tunnel to send fresh air to anyone who may still be alive.

But the machine they were using could only make its way for about five metres before it came to a stop, Ma Cunjin, a coal mine safety official, told the Beijing Times.

Experts said a huge rock stumping made the drilling more challenging.

Rescue workers then tried to drill from a nearby tunnel but have not managed a breakthrough yet.

A medical team and additional rescue workers from nearby coal mines were dispatched to the site.

Da'anshan has some 2,600 employees.
Today's Top News
Top China News

Summer grain output to rise after years




7 million commit to honesty in college exam




Ample room for fiscal policy manoeuvring




N. Korea to increase nuke deterrent




Al Qaeda warns of attacks on western airlines




Minister urges assent to market status