Great Wall's protection not so great
(China Daily)
Updated: 2004-06-07 21:03
Only 2,500 kilometres remain of China's 6,300-kilometre-long Great Wall, long known as a wonder of the world and its largest cultural relic, according to a newly released report from the Chinese Academy of the Great Wall.
Dong Yaohui, secretary-general of the academy, criticized shortsighted Chinese who have damaged some segments of the wall to save money by acquiring earth and bricks from the structure while haphazardly destroying the nation's heritage.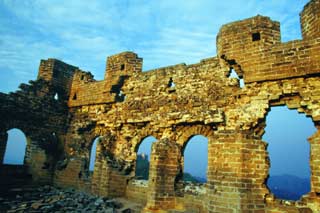 Simatai section of the Great Wall in Beijing. [newsphoto]
In addition, some local governments have torn down parts of the wall, paving the way for new construction projects and business people have restored other sections of the wall for tourism use without authorization and not in accordance with its original design.
All such behaviours have severely damaged the wall and protecting the much-beloved structure is now an ever more urgent task, Dong said.
"Only a few people who damaged the Great Wall were punished by law. Most Great Wall destroyers were merely fined or given disciplinary penalties," he said.
As early as in 1961, the State Council passed a regulation on cultural relics protection that required mapping-out so-called protection zones for the Great Wall. It designated special organizations to take charge of Great Wall protection and to keep records and files on the wall's upkeep.
But decades have passed and there are still no protection zones for most segments of the Great Wall.
Recently, a real estate developer built 11 villas near the Badaling section of the Great Wall, damaging the ancient views for that wall segment.
Dong appealed to the central government to make a thorough survey of the entire wall and to keep detailed records as a reference for future wall restoration efforts.
He also suggested that an exclusive regulation on Great Wall protection be formulated, which should define detailed punishments for wall destruction and clearly define the rights and duties of Great Wall protection organizations.
Today's Top News
Top China News

Summer grain output to rise after years




7 million commit to honesty in college exam




Torch trail star struck




Great Wall's protection not so great




Al Qaeda warns of attacks on western airlines




China's economy: Where will it go from here?