S.Korea's Roh pledges reform with new parliament
(Agencies)
Updated: 2004-06-07 15:00
South Korean President Roh Moo-hyun pledged to speed up reforms and tackle corruption in a speech on Monday at the opening of parliament, where his supporters now have a majority that could end a year of legislative deadlock.
Three months ago the National Assembly, then dominated by the opposition, voted amid scuffles to impeach Roh for breaking an election law. Roh returned from political limbo in May after the Constitutional Court overturned that vote.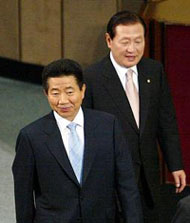 South Korean President Roh Moo-hyun, front, and National Assembly speaker Kim Won-ki walk out after his speech at an opening session of the 17th National Assembly in Seoul, Monday, June 7, 2004. [AP]

In a speech that made no mention of foreign policy plans and only a passing reference to North Korea, Roh said the economy was in trouble but not in crisis and should grow more than five percent this year after just over three percent last year.

Growth in Asia's fourth-largest economy would top six percent from 2005 despite concerns about weak domestic demand, he said.

"The economy is in trouble. The biggest problem is weak domestic consumption. Most of all, the economic conditions felt by ordinary people are poorer than ever," said Roh.

"But I can say for sure our economy is definitely not in crisis. There are difficulties but they fall short of a crisis."

Many members of the main opposition Grand National Party showed their disapproval by remaining seated as Roh left. For his part, Roh greeted members of the ruling Uri Party but ignored the opposition.

But Park Geun-hye, leader of the Grand National Party, struck a more conciliatory tone in a private meeting with Roh later, telling him he need not worry about opposition if he sought to improve the economy, according to a participant.

Roh spent the first year of his single five-year term battling an opposition-led parliament that thwarted his efforts to change laws on labour, minority shareholder rights, pension funds and accounting transparency, among other plans.

In his speech, Roh said the economy, largely driven by exports, could weather a potential shock from a slowing Chinese economy, higher oil prices and possible U.S. interest rate rise.

"PARLIAMENT OF THE PEOPLE"

Roh said the government would introduce reforms, notably to improve market transparency and help small- and medium-sized businesses that have suffered most because South Koreans are spending less after a credit bubble burst.

South Korea's financial markets largely ignored Roh's speech, which was aspirational rather than specific on reform plans, for example on labour relations -- a key focus for foreign investors.

The liberal Uri Party that backs Roh roared to victory in an April 15 general election, when voters punished the Grand National Party and Millennium Democrats for impeaching Roh. This means Roh will have fewer problems pushing through changes in what he called "truly a parliament of the people".

"There can be criticism, but it should come with alternatives," he said in the imposing domed chamber of the riverside parliament. "I have been pestered for the past year with criticism that did not offer any alternatives."

He vowed to tackle corruption -- a deep-seated problem that has marred many administrations including Roh's -- and to cut bureaucracy.

The parliament Roh addressed is far from adversarial compared with the previous one. The Uri Party took 152 of the 299 seats in the election, increasing its size more than three-fold.

The conservative Grand National Party, previously in the majority, is the second-largest party with 121 seats while the Millennium Democrats on whose ticket Roh ran in the December 2002 presidential election was reduced to just nine seats.

The Uri Party split last year from the Millennium Democrats.

One of Roh's first major tasks since being reinstated is to nominate a new prime minister. Officials say he has yet to settle on a candidate to replace Goh Kun, who retired after 40 years of public service and nine weeks as acting president.

A weekend setback in local elections for four provincial governors may colour Roh's selection.
Today's Top News
Top World News

China's economy: Where will it go from here?




GM to invest US$3b in China in 3 years




Tougher wildlife protection law under way




Weakened Bush seeks luster at G8 summit




Reagan to be honored with state funeral




Survey: Men like radio; women dig television