Reagan to be honored with state funeral
(Agencies)
Updated: 2004-06-07 08:48
Ronald Reagan was remembered with jelly beans, flowers and American flags on Sunday at memorials in his hometown and outside the mortuary where the former president's body lay.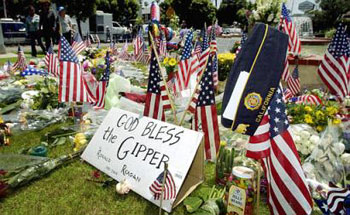 An American Legion cap hangs on one of dozens of flags at a makeshift memorial for former President Ronald Reagan at the funeral home where Reagan's body is being held in Santa Monica Sunday, June 6, 2004. [AP]


Reagan will be memorialized at the first presidential state funeral in more than three decades, a ritual rich in traditions from the country's earliest days. His remains will be flown to Washington on Wednesday to lie in state in the Capitol Rotunda. The funeral, undoubtedly attended by world leaders, will be at Washington National Cathedral on Friday. U.S. President Bush will speak at the funeral.

Tokens of remembrance were left in Santa Monica for the nation's 40th president, who was 93 when he died of pneumonia, as a complication of Alzheimer's, at his Bel Air home on Saturday. "Thank you for changing the world," said a handwritten note.

The family's spokeswoman said Nancy Reagan was thankful for thousands of expressions of sympathy over the death of her husband, and despite her sadness was relieved he was no longer suffering.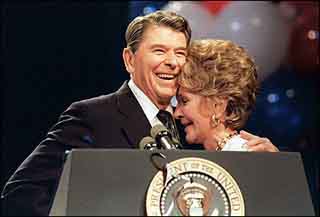 Former US president Ronald Reagan and wife Nancy in 1988. [AFP]

"I can tell you most certainly that while it is an extremely sad time for Mrs. Reagan, there is definitely a sense of relief that he is no longer suffering, and that he has gone to a better place," Joanne Drake told a press conference outside the mortuary where Reagan's body lay.

"It's been a really hard 10 years for her," Drake said of Nancy Reagan, as nearly a week of tribute to the former president was detailed.

In a piece written for Time magazine before Reagan's death, Nancy Reagan remembered her husband as "a man of strong principles and integrity" who felt his greatest accomplishment was finding a safe end to the Cold War.

"I think they broke the mold when they made Ronnie," she wrote in the article appearing Monday. "He had absolutely no ego, and he was very comfortable in his own skin; therefore, he didn't feel he ever had to prove anything to anyone."

Former President Jimmy Carter said Sunday that the death of Reagan, who defeated him in the 1980 presidential election, was "a sad day for our country."

"I probably know as well as anybody what a formidable communicator and campaigner that President Reagan was. It was because of him that I was retired from my last job," Carter said before teaching Sunday school in his hometown of Plains, Ga.

Carter added: "He presented some very concise, very clear messages that appealed to the American people. I think throughout his term in office he was very worthy of the moniker that was put on him as the 'Great Communicator.'"

On Monday, the Reagan family was to travel in a motorcade with the body to the presidential library in Simi Valley, northwest of Los Angeles. After a private ceremony, the body was to lie in repose for public visitation through Tuesday.

On Wednesday, the body will be flown to Washington, D.C. The family accepted an offer from President Bush to use one of his jets, normally used as Air Force One, for the trip. The body will then be driven to the U.S. Capitol for a state funeral. Reagan's body will then lie in state in the Capitol Rotunda through Thursday.

Friday morning, a motorcade will take the casket to the National Cathedral for a national funeral service. It will then be flown back to California for a motorcade to the library for a private interment service.

Bush, in France to commemorate D-Day, recalled that 20 years earlier Reagan had come to Normandy on the anniversary of the June 6, 1944, invasion.

"He was a courageous leader himself and a gallant leader in the cause of freedom, and today we honor the memory of Ronald Reagan," Bush said.

At Reagan's boyhood home in Dixon, Ill., mourners left flowers, flags and packets of Jelly Belly jelly beans — his favorite — at the feet of a life-sized statue of Reagan in the front yard.

Ken Dunwoody, 82, who grew up outside Dixon, said the Republican icon transcends partisan politics.

"I just think of him as being an American," Dunwoody said. "I wish we all could get back to that."

At Bel Air Presbyterian Church, which Reagan attended during and after his presidency, worshipper Rose McNally recalled how members of the congregation would react to his arrival.

"As soon as he'd start up the ramp, people would pick up a piece of paper, any piece of paper, to get him to sign," she said. "He was a great man."

The Rev. Mark Brewer opened Sunday's first service with a remembrance, saying, "As a nation, we grieve this week."

"He brought with him not only a love for the nation but also a sense of humor," Brewer told about 500 people.

Reagan died at 1 p.m. Saturday and his body was taken to a Santa Monica funeral home. A shrine that sprouted outside grew to include a cowboy hat, personal letters, flags, candles and jelly beans.

Hand-written cardboard signs read: "Because of you, we are proud Americans," "God bless you, Ron, and God bless America" and "Good night, Mr. President."
Today's Top News
Top World News

China's economy: Where will it go from here?




Tougher wildlife protection law under way




Weakened Bush seeks luster at G8 summit




Reagan to be honored with state funeral




Survey: Men like radio; women dig television




China expects first unmanned moon mission