Volunteers to clear up Qomolongma waste
By Fu Jing (China Daily)
Updated: 2004-06-07 07:49
A group of environmentalists is expected to collect waste on the world's highest peak, Qomolongma, in September.
Multinationals such as Amway and Motorola will take part in the symbolic project aimed at raising awareness of environmental protection and prevent further pollution on the mountain also known as Mount Everest in the West.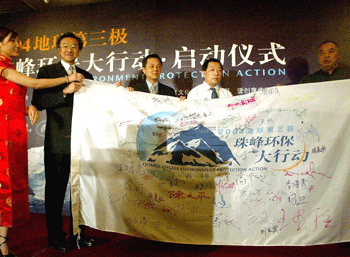 A sheet bearing the names of volunteer environmentalists is displayed Saturday to mark the beginning of a programme to clear up waste on Qomolangma. They will go to the world highest mountain peak in September. [newsphoto]


Gao Dengyi, president of China Association for Scientific Expedition, said human activity on the mountain has threatened the delicate ecological balance on the mountain.

"We have monitored more and more poisoned elements on the snow mountain," Gao told the weekend's press conference jointly organized by his association and Sports Bureau of Tibet Autonomous Region in Beijing.

Gao cited monitoring results from scientists as saying that snowfall included growing contaminated elements such as DDT and lead as expeditions over the highest mountain become increasingly popular in recent years.

"Much waste left behind has resulted in a worsened ecological situation there."

Statistics show that between 1921-1960, only 15 expeditions were held on Qomolongma. But in 1998, about 20,000 tourists reached the region.

Roughly speaking, a total of 615 tons of waste were left on the mountain between 1921 and 1999. In recent years, the waste and pollution has been growing by 45 tons annually.

To prevent further pollution, a group of nearly 100 volunteers plan to clear waste left on the area higher than 6,500 metres above sea level.

Amway, one of major sponsors of the event, said the company launched a nationwide campaign last year to clear up China's renowned mountains and rivers.

"To prevent Qomolongma from being further polluted is the goal of the campaign," said Audie Wong, president of Amway (China).

Wong said the company has already supported Chinese scientists' research in antarctic and arctic regions.

Qun Zeng, head of the sports bureau, said the local government will mobilize more forces to take part in the environmental event and clear up the waste as soon as possible.
Today's Top News
Top China News

China's economy: Where will it go from here?




Tougher wildlife protection law under way




Weakened Bush seeks luster at G8 summit




Reagan to be honored with state funeral




Survey: Men like radio; women dig television




China expects first unmanned moon mission