Landslide kills 4, buries 17 in Chongqing
(Reuters)
Updated: 2004-06-06 16:16
There is little hope for survival of 17 missing people who had been buried in rubbles in a landslide Saturday afternoon that has killed at least four people, in Chongqing Municipality, southwest China, officials said.
Four bodies of the dead have been recovered and another three were rescued and hospitalized, rescue officials said.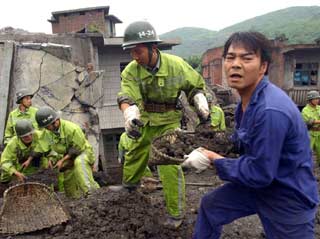 Rescuers search for survivors after a landslide left three people dead and 18 missing in Southwest China's Chongqing Municipality June 5, 2004. [newsphoto]
Heavy rains over the past few days led to mountain torrents that collapsed, at 1:50 p.m., part of a local hill and a coal gangue deposit of the local coalmine bureau in Xinhua Village of Wandong Town of Wansheng District. And rubbles from the hill and gangue deposit, about 200,000 cubic meters in total, slid 500 meters far and buried 14 homes of farmers nearby, rescue experts at the scene said.
A total of 56 people lived in the homes, but fortunately 32 of them were not at home when the disaster happened while other 24 were interred beneath.
The three injured have been out of life danger, doctors said.
Dredgers, bulldozers used to help find those missing
Six dredgers and four bulldozers are tumbling in mud and rubbles to hopefully excavate a life way leading to 17 missing villagers.
The six dredgers were working in three pairs, opposite to each other, to remove mud and stones in the area where the fish pound was previously located and the victims would be most likely to be found, according to officials. Each machine was followed by rescuemembers of firefighters and policemen.
The powerful force of the landslide might have thrust houses and people, along with mud and rubbles, to a fish pound in front of the landslide site, rescue officials said. They decided to dig a channel first to divert water out of the pound and in the muddy rubbles.
According to geological experts at the scene, the muddy deposit was thick, four meters at the thickest and one meter at the least, which indicated slim chances for survival of the buried.
The rescue headquarters have set up five monitoring stations Saturday night in case of further dangers and gongs will be beaten to warn people if there is any more risk.
About 400 police officers, 60 armed policemen and 20 firefighters were sent to take part in the rescue operation.
Workers, villagers and officials from nearby factories and villages also joined. A worker, surnamed Hu from the local Donglin Coalmine, said some 100 of his fellow workers were working for salvation and another 200 were on stand-to.
A total of 56 people lived in the homes that were crushed in the landslide, but fortunately 32 of them were not at home when the disaster happened while 24 others were buried beneath.
The government has organized 14 work teams to soothe the 14 families and arrange their compensation. It also found 14 houses for the families as makeshifts, according to rescue officials.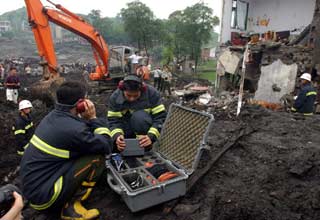 Rescuers use life detectors to aid their rescue missions. [newsphoto]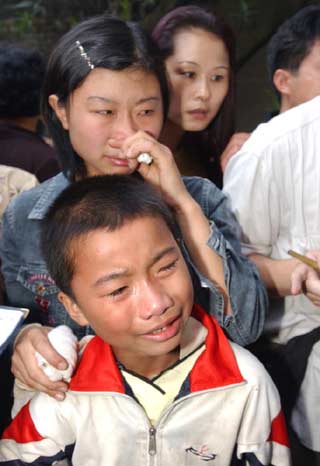 Yu Jianhong, a boy of 10, survives the disaster. [newsphoto]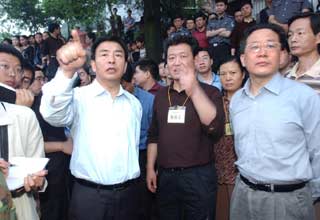 Chongqing mayor Wang Hongju (left) is at the site to lead the rescue mission. [newsphoto]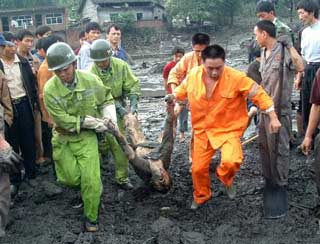 A body of the victim is found by rescuers. [newsphoto]