Landslide kills four, 17 still missing
(Xinhua)
Updated: 2004-06-06 15:18
There is little hope for survival of 17 missing people who had been buried in rubbles in a landslide Saturday afternoon that has killed at least four people, in Chongqing Municipality, southwest China, officials said.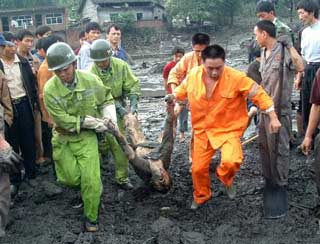 A body of the victim is found by rescuers. [newsphoto]
Four bodies of the dead have been recovered and another three were rescued and hospitalized, rescue officials said.
Heavy rains over the past few days led to mountain torrents that collapsed, at 1:50 p.m., part of a local hill and a coal gangue deposit of the local coalmine bureau in Xinhua Village of Wandong Town of Wansheng District. And rubbles from the hill and gangue deposit, about 200,000 cubic meters in total, slid 500 meters far and buried 14 homes of farmers nearby, rescue experts at the scene said.
A total of 56 people lived in the homes, but fortunately 32 of them were not at home when the disaster happened while other 24 were interred beneath.
The three injured have been out of life danger, doctors said.
Today's Top News
Top China News

Using AIDS to get away with crimes




Former US president Ronald Reagan dies




About 30,000 reservoirs have safety problems




US investor to control Chinese listed bank




Official: China facing more trade conflicts




Mobile phone games thrives in China