'Harry Potter' power returns to theaters
(Agencies)
Updated: 2004-06-05 13:40
All aboard for the train to Hogwarts. Hollywood has cleared the tracks of major film debuts on Friday to make way for the latest "Harry Potter" film and put it on an express route to a No. 1 finish at box offices.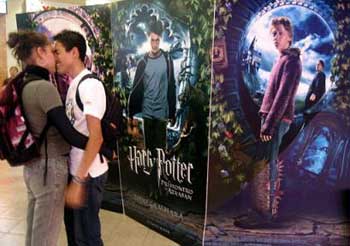 Two teens kiss outside the theater between showings of the third Harry Potter movie 'The Prisoner of Azkaban' which was released today Friday June 4, 2004, in Mexico City. [AP]

"Harry Potter and the Prisoner of Azkaban," the third film in the hugely successful series based on British author J.K. Rowling's children's books, hits U.S. theaters on Friday and most countries this weekend, after opening in Britain and France on Monday, marking a major global effort for Warner Bros., the studio unit of Time Warner Inc .

It follows two straight weeks of box office records for animated "Shrek 2" and disaster flick "The Day After Tomorrow," but film industry experts expect little fatigue from movie fans as this new "Potter" has received solid reviews.

"'Harry Potter' is a brand name and one of most successful (film) franchises of all time," said Paul Dergarabedian, president of Los Angeles box office tracker Exhibitor Relations Inc. "People are really buzzing about this one."

Much of the fuss revolves around a new director for the series, Mexico's Alfonso Cuaron, who scored an independent film hit with 2001's "Y Tu Mama Tambien." The first two "Potter" films were directed by Chris Columbus (news), who produces this one.

Main characters, Harry (Daniel Radcliffe), Ron Weasley (Rupert Grint) and Hermione Granger (Emma Watson) are now in their early teens, which has caused some industry watchers to wonder if their older fans will turn out for a kids movie.

If overseas sales are a clue, the answer is, yes. "Prisoner of Azkaban" debuted in the United Kingdom on Monday to the largest single day in movie history, and France saw ticket sales that were 48 percent higher than the first film and 28 percent above the second, said a Warner Bros. spokeswoman.

BOX OFFICE MAGIC

In its debut weekend in Nov. 2001, the first "Harry Potter and the Sorcerer's Stone" earned $90.3 million. "Harry Potter and the Chamber of Secrets" took in about $88.4 million its first weekend a year later, according to Exhibitor Relations.

Dergarabedian reckons a hurdle for "Prisoner of Azkaban" to overcome is the shift to summer where competition is tight, but he believes the new "Potter" will beat last year's $62 million debut for "The Hulk," which is the record for a June opening.

"I fully anticipate that record will fall," he said.

A good start will put it on a fast track to join the Top 10 all-time hits. "Sorcerer's Stone" is No. 3 with $972.4 million, and "Chamber of Secrets" is No. 7 at $876.8 million.

In the new movie, Harry faces Sirius Black (Gary Oldman), who was jailed for killing his parents. Black has escaped Azkaban and tracked Harry to the Hogwarts School of Witchcraft and Wizardry to murder the boy wizard, as well.

Harry, Ron and Hermione must face their fears and foil Black's plot with a little help from potions, spells and magic wands, as well as the older wizards guiding the students.

Michael Gambon has replaced the deceased Richard Harris as Professor Dumbledore. Maggie Smith returns as Professor McGonagall, as does Alan Rickman as sneering Professor Snape. New additions are Emma Thompson as wacky soothsayer Professor Trelawney and David Thewlis as mysterious Professor Lupin.

The New York Times calls the film, "surely the most interesting of the three Potter movies, in part because it is the first one that actually looks and feels like a movie, rather than a staged reading with special effects."

With that kind of review, "Harry Potter and the Prisoner of Azkaban" -- the latest train to Hogwarts -- appears to be on track for box office glory with a full head of steam.
Today's Top News
Top Life News

China wins praise for bold reforms at APEC meeting




China liberalizes grain trading, pricing




Efforts 'paying off' on market status




Lottery fraud victim win top prize...finally




China to send anti-riot peacekeepers to Haiti




World leaders gather for D-Day anniversary