World leaders gather for D-Day anniversary
(Agencies)
Updated: 2004-06-05 10:19
World leaders will stand side-by-side this weekend with army veterans and tourists to commemorate the D-Day landings in Normandy, the turning-point in World War II that has come to symbolize the sacrifices made in the fight against tyranny.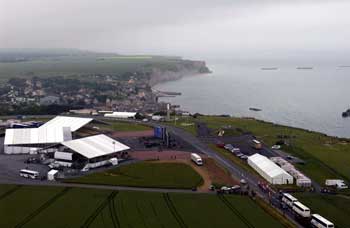 Aerial view of the French Normandy coast near Arromanches, June 4, 2004 ahead of ceremonies marking the 60th anniversary of D-Day. [Reuters]

Exactly 60 years after Allied forces poured from landing-craft in the biggest seaborne invasion of all time, Sunday June 6 will see a series of national and international services of remembrance at cemeteries, memorials and battle sites along the 100-kilometre (60-mile) stretch of coast in northwestern France.

French President Jacques Chirac will be joined by some 20 heads of state or government including US President George W. Bush, whose presence in Rome and Paris in the days preceding the anniversary is expected to trigger widespread demonstrations against US policy in Iraq.

However the tone of the ceremonies will be one of reconciliation and shared values, with both France and the United States apparently eager to rebuild diplomatic bridges broken over last year's invasion.

"Thank you to those who liberated France and Europe," said French Prime Minister Jean-Pierre Raffarin on a visit to the city of Poitiers on Friday, echoing numerous expressions of transatlantic friendship.

"France is not an ungrateful country ... and knows how to like people who gave it a future."

According to a top aide travelling to Italy with Bush Friday, he will not use his address Sunday to draw comparisons between the Normandy landings and the Iraq war -- an analogy deeply resented by opponents of US policy -- but instead honour those who died 60 years ago.

An enormous security operation has been launched to avert the risk of Al-Qaeda or other terrorist attacks, with some 19,000 French soldiers, gendarmes and police mobilised in addition to visiting leaders' own security details.

For the first time D-Day commemorations will be attended by a German leader -- a sign that after 60 years the wounds of Nazi conquest have definitively healed.

Chancellor Gerhard Schroeder will attend a Franco-German ceremony at the Caen peace memorial as well as an all-German service at Ranville cemetery.

But several opposition conservatives and commentators have questioned his patriotism for not visiting an official German war cemetery near Bayeux where more than 2,000 soldiers are buried.

Schroeder said the issue was "too important and too sensitive" to be marred by "political games," and urged critics to keep what is happening on Sunday free of party political, power political machinations.

Vladimir Putin will also be the first Russian leader to attend, in a tacit acknowledgement that for most of the post-war period Soviet historians had downplayed the significance of the Normandy landings.

Britain's Queen Elizabeth II and Prime Minister Tony Blair, Australian Prime Minister John Howard, Canadian Prime Minister Paul Martin and leaders from New Zealand, Poland, Belgium, Norway and the Netherlands are among the other dignitaries attending.

Weather forecasters predicted a partly sunny weekend with afternoon temperatures in the low 20s centigrade (70s Fahrenheit).

D-Day was the long-awaited opening of a second front in Europe to relieve pressure on the hard-pressed Russians and build on Allied successes in North Africa and the Middle East. After months of preparations, American, British and Canadian troops were sent to secure a foothold in Nazi-occupied France.

After three airborne divisions parachuted overnight behind German lines, at daybreak an armada of 4,300 ships bombarded the coast and unleashed the landing-craft against the beaches dubbed Utah, Omaha, Gold, Juno and Sword.

Except at Omaha beach -- where the Americans suffered heavy casualties -- the landings were an unqualified success, leading to the fall of Normandy in July and then the Allied sweep through northern France into Belgium, the Netherlands and Germany.

"The free Europe we know today could not exist, had not the tide of war been turned in Normandy in 1944," said Britain's Prince Charles in a speech on Friday.

Memorial services Sunday will remember the some 4,000 Allied troops who died on D-Day, and the 55,000 killed in the Normandy campaign. Many of these lie in 22 Allied cemeteries, such as the Colleville-sur-Mer US memorial overlooking Omaha beach where Bush will deliver his speech.
Today's Top News
Top World News

China wins praise for bold reforms at APEC meeting




China liberalizes grain trading, pricing




Efforts 'paying off' on market status




Lottery fraud victim win top prize...finally




China to send anti-riot peacekeepers to Haiti




'Wrongful eviction' officials fired