Lottery fraud victim win top prize...finally
(China Daily)
Updated: 2004-06-04 22:47
Local farmer Liu Liang finally got what he deserved on Friday -- a BMW325i car, 120,000 yuan and a sincere apology from the Shaanxi Provincial Sports Lottery Administrative Centre -- for being the victim of Shaanxi Province's sports lottery fraud.
Liu, 17, had to wait 70 days for his prize, after being wrongly accused of presenting a fake ticket.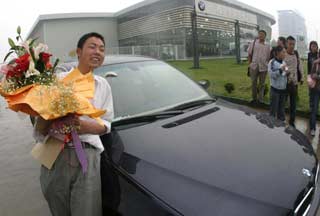 Liu Liang and his BMW325i
"After careful investigation, we are clear that the forged ticket found in Xi'an's sports lottery in March was not made by Liu Liang, and his ticket was a real one," said Wu Jinbiao, deputy director of Xi'an Municipal Public Security Bureau.
Wu said that local police had instead found that the fake ticket for the top prize was forged by Huang Siqing, a 41-year-old farmer from Hunan Province who worked in Xi'an.
According to the police official, Huang went to a lottery ticket sales outlet in downtown Xi'an on March 20, picked up some used tickets from the ground and used one of them to forge the "prize-winning" ticket at home that evening.
Huang then handed the forged ticket to his neighbour Liu Xiankui, a 25-year-old farmer from Hubei Province, asking him to sell it for 10,000 yuan (US$1,204), said the police official.
Liu took the forged ticket to the lottery ticket sales outlet and received a Cherry QQ car, the top prize. He then sold the car for 43,000 yuan(US$5,180) and left Xi'an for his hometown with the money on April 1, Wu said.
Huang Siqing and Liu Xiankiu were taken into custody after local police tracked down Liu in his hometown in Hubei Province on May 31 and he confessed his crime to them, Wu said.
The forgery not only exposed Huang and Liu's crimes, but also the fraud committed by Yang Yongming, the organizer of March's sports lottery ticket sales, local police official said.
Yang Yongming, a private businessman who had been contracted by the local lottery administration to organize the lottery sales, had conspired to fraudulently obtain the four top prizes --BMW cars and 120,000 yuan (US$14,460) in the lottery sales between March 20 and 25, Wu said.
However, Yang never reckoned that he would be cheated while he was trying to cheat the lottery himself. On the evening of March 23 he found the forged ticket when checking the tickets for prizes, and he thought the forged ticket was made by Liu Liang, who was entitled to the top prize.
Yang refused to hand over the car to Liu Liang on March 24, accusing him of being a trickster when Liu came to claim the prize.
On June 2, local prosecution authorities granted warrants for the arrests on fraud charges of Yang Yongming and five other people who helped perpetrate Yang's fraud, the police official said.
The Shaanxi provincial government has paid a great deal of attention to the case, either sacking or suspending the leading officials at local sports lottery administrative centres and making further investigations into lottery ticket sales in the province since 1998.
There have been 185 sports lotteries in Shaanxi from 1998 until March 2004, which reaped a total sales income of 183 million yuan(US$22.05 million), with most of these sales being organized by Yang Yongming, according to local officials.
Today's Top News
Top China News

Grain market reforms unveiled




Efforts 'paying off' on market status




Lottery fraud victim win top prize...finally




'Wrongful eviction' officials fired




Power watchdog warns of supply cuts




Iraq leader defends US troop presence