Chang Xiangyu, the "Queen of Yuju Opera," completed her 81-year life in the early morning of June 1 in Henan Provincial People's Hospital in Zhengzhou, capital of Central China's Henan Province.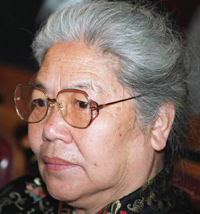 Chang Xiangyu attends the Sixth National Meeting of the China Federation of Liberary and Art Circles in 1997. [Xinhua/file]

The death of this great artist brought deep sorrow to opera circles and fans of Yuju Opera, which has millions of followers, mostly in Henan Province, the opera's birth place.

On Thursday morning, several thousand officials, artists and fans gathered at the Zhengzhou Funeral Parlour to pay last respects to the great star, who died of cancer on Tuesday.

"I grew up listening to the singing of Chang, and my creations are derived from the marrow of Yuju Opera," said noted writer Liu Zhenyun, who was born in Henan and now works in Beijing.

Li Runjun, a retired military officer who was born in the same county as Chang, is deeply grieved because Chang will never again grace the stages of China.

"I like Yuju Opera very much and became a fan of Chang when I was a young boy. For 50 years, enjoying Chang's performances has been the greatest joy in my life, wherever I have worked, in Henan or in Northwest China's Shaanxi Province," he said.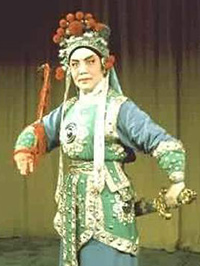 Chang Xiangyu performs the role of Hua Mulan. [file photo]

People remember and adore Chang not only for her superb Yuju Opera performances, but also for her devotion to the art and her contributions to the country.

Chang was born to a poor farmer's family in Henan's Gongxian County in September, 1923, and her father was a popular Yuju Opera actor in their hometown. He had to leave the stage because of a throat disease after Chang was born.

Chang first learned Yuju Opera from her father and won stage fame at the age of 13, when she acted the part of a lively maid in the "Romance of the West Chamber" (Xixiang Ji). "I liked to watch Yuju Opera when I was very young, but I had to learn to be an actress because of poverty," Chang said in an interview with local media two years ago. "My family was so poor that sometimes we had nothing to eat for one or two days when I was young. And I started to follow my mother to beg in the streets when I was 6."

When she was 9 years old, she could have become a child-bride, leaving her own family to live with her future husband's family.

However, they'd seen so many child brides living miserable lives that Chang's father took the little girl to learn opera.

Difficult rise to stardom

In Chang's memory, learning opera was a path full of tears. Beatings were seen as the simplest and fastest way to teach opera skills to a little girl. "Though my father loved me dearly, he was very strict with me, because it was the only way he knew to help me master more skills. I understood him and I tried hard," she said.

Chang's original name was Zhang Miaoling but she was forced to change it to Chang Xiangyu, because the people from her village with the same surname as hers considered it shameful that a girl surnamed Zhang would become an opera actress.

However, those who used to look down upon Chang eventually became jealous of her and made trouble for her after she became popular around her county.

Threats, including a hand-made grenade explosion, forced the Changs to leave their hometown. Later the Changs went to Shaanxi, the neighbouring province to the west.

There were still traps laid for this rising and popular young opera star away from their home town. "I still remember that in Baoji, a city in western Shaanxi Province, I was forced to perform in a local rich despot's home. I was so angry about it that I tried to commit suicide by swallowing a gold ring," Chang said.

Fortunately, Chang did not die. And in this darkest moment in her young stage life, she met Chen Xianzhang, who later became her husband and life-long partner.

Chen was at that time the headmaster of a primary school and was married, but lived an unhappy life with his family. Chen also came from Henan and loved Yuju Opera. He often went to watch Chang's performances and fell in love with her.

"Chen gave me a helping hand when I met with difficulties, and I knew he was a man I could depend on for my whole life," Chang smiled, looking at a picture of Chen, who died in July, 2000.

In 1944, 21-year-old Chang married 27-year-old Chen who had divorced, and later, Chen resigned and concentrated all his attention on helping Chang in her opera career. With Chen's help, Chang enriched Yuju Opera art and expanded its appeal by adapting performance skills and vocal techniques from other local Chinese operas. She created a Yuju school of her own. In 1948, Chang established the Xiangyu Opera Troupe in Xi'an, capital of Shaanxi Province and worked very hard to train young opera students.

Traditional legacy

Yuju Opera, originally called Henan Bangzi, is one of the major local opera forms and has a broad popular base in China.

According to written records, Yuju Opera has a history of over 200 years. At the end of Qing Dynasty (1644-1911), it had spread over Henan and after 1949, operas in the Yuju genre could be seen all over the country. By the 1980s, through the efforts of Chang and other Yuju Opera artists, the number of Yuju Opera troupes, actors and actresses and fans topped the list of the 300 types of local opera in the country.

Yuju Opera has various schools and its five noted actresses - Chang Xiangyu, Chen Suzhen, Cui Lantian, Ma Jinfeng and Yan Lipin - represent five major styles.

Chang's style has remained the most popular, distinguished by its beautiful music and loud and sonorous singing, as well as its vigorous movements and exquisite performances. Chang's art is considered the epitome of Yuju Opera.

Her fans have deeply engrained memories of Chang's vivid portrayals of dozens of characters, varying from an ancient woman general to a commoner in a people's commune.

Hua Mulan, one of her most loved operas, depicting a legendary heroine from around 1,500 years ago, was filmed in 1956 and remade as the animated film "Mulan" by the famed Disney Studios in the United States in 1998. Hua Mulan's song, in which she says, "Who says women are not as capable as men?" has been loved and learned by millions of Chinese.

Chang not only performed as a heroine on stage, but also displayed her strong spirit in her daily life.

In 1951, when China became involved in the Korean War, after discussions with her husband and on behalf of her drama troupe, she donated a fighter plane to the Chinese volunteers. Chang collected money for the plane by performing "Hua Mulan" all over the country in more than 180 shows, and after two years, Chang fulfilled her promise.

Jing Hua, one of Chang's colleagues who had worked with her since 1951, said Chang was not rich and that she lived a simple and frugal life. Over the past decades, every time disaster struck the country and the people, Chang would always donate money and give a helping hand. She always considered the people's concerns as her own, Jing said.

Chang's outstanding achievements both in art and daily life are highly appreciated by both the nation and her fans. She was elected a deputy of the National People's Congress from the first until the seventh session, except for the fourth.

Chang passed away leaving two wishes she could never fulfill. One was that her school could be passed down by her own children, but unfortunately that was not to be; and the other, that she would have time to look after her family. "I gave all my life to my career and I owe too much to my husband and children," Chang often said in her last days.