Bush: CIA director George Tenet resigns
(Agencies)
Updated: 2004-06-03 23:44
CIA Director George Tenet, who weathered storms over intelligence lapses about suspected weapons of mass destruction in Iraq and the Sept. 11 terrorist attacks, has resigned, US President Bush said Thursday.
"I will miss him," Bush said.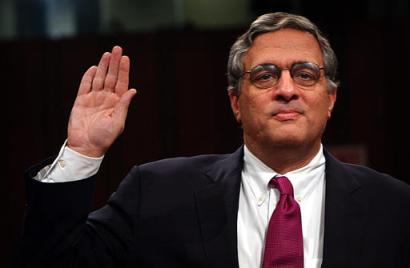 The Director of the Central Intelligence Agency George Tenet is sworn in at the start of his testimony before the commission investigating the Sept. 11 attacks in this April 14, 2004 file photo on Capitol Hill in Washington. [AP]
Tenet, 51, came to the White House to inform Bush about his decision Wednesday night. "He told me he was resigning for personal reasons," Bush said. "I told him I'm sorry he's leaving. He's done a superb job on behalf of the American people."
Tenet will serve until mid-July. Bush said that deputy John McLaughlin will temporarily lead America's premier spy agency until a successor is found. Among possible successors is House Intelligence Committee Chairman Porter Goss, R-Fla., a former CIA agent and McLaughlin.
"He's been a strong and able leader at the agency. and I will miss him," Bush said of Tenet as he got ready to board Marine One for a trip to Andrews Air Force Base, Md., and on to Europe.
"George Tenet is the kind of public servant you like to work with," the US president added. "He's strong, he's resolute. He's served his nation as the director for seven years. He has been a strong and able leader at the agency. He's been a strong leader in the war on terror.
"I send my blessings to George and his family and look forward to working with him until he leaves the agency," Bush said.
Tenet had been under fire for months in connection with intelligence failures related to the U.S.-led war against Iraq, specifically assertions the United States made about Saddam Hussein's purported possession of weapons of mass destruction, and with respect to the threat from the al-Qaida terrorist network.
In May, a panel investigating the Sept. 11 attacks released statements harshly criticizing the CIA for failing to fully appreciate the threat posed by al-Qaida before the terrorist hijackings. Tenet told the panel the intelligence-gathering flaws exposed by the attacks will take five years to correct.
Notwithstanding his controversial place in the life of Washington, Tenet's resignation seemed to take the city by surprise.
On Capitol Hill, House Speaker Dennis Hastert said: "He served his country a long time. History will tell what the implications of his tenure were.
"I think history will tell," the Illinois Republican said when asked how Tenet's performance would be judged. "It's too early to make that snap judgment.
"I think history will either vindicate him or say, 'Hey there was a problem there'," Hastert said.
Retired Adm. Stansfield Turner said he thought Tenet had been "pushed out and made a scapegoat.
"I don't think he would have pulled the plug on President Bush in an election cycle without having been told to do that," Turner, a former CIA director, told CNN.
Sen. Charles Schumer, D-N.Y., called Tenet "an honorable and decent man who has served his country well in difficult times, and no one should make him a fall guy for anything."
As director of the CIA, Tenet drew one particularly unusual assignment: trying to ease tensions between Israel and the Palestinians. He tried to curb the violence and prompt talks on strengthening security arrangements. Like virtually all special U.S. mediators, his efforts had mixed results.
During his seven years at the CIA, speculation at times has swirled around whether Tenet would retire or be forced out, peaking after the terror attacks of Sept. 11, 2001 and surging again after the flawed intelligence estimates about Iraq's fighting capability.
Even when his political capital appeared to be tanking, Tenet managed to hang on with what some say was a fierce loyalty to Bush and the CIA personnel. A likable, chummy personality, also helped keep him above water.
Conventional wisdom had been that Tenet, who was appointed by former US President Bill Clinton, did not plan to stay on next year, no matter who won the White House. Tenet has been on the job since July 1997, an unusually lengthy tenure in a particularly taxing era for the intelligence community that he heads.
Tenet is the son of Greek immigrants who grew up in Queens, N.Y.
Some close to Tenet have said the job overseeing more than a dozen agencies that make up the intelligence community has been taxing for him. He suffered heart problems while at the National Security Council during the Clinton administration, although a CIA official said his resignation was not health related.
Today's Top News
Top World News

Handling pollution vital to progress




Nation seeks non-proliferation group status




Water price hikes expected in Beijing




Southern alliance rises on the Pearl




Like Clinton, will Bush face the grand jury?




Nation plans IPR defence strategy