China seeks non-proliferation group status
By Hu Xiao (China Daily)
Updated: 2004-06-03 23:31
Building on recent efforts to demonstrate its non-proliferation credentials, China has reiterated its desire to join an influential export control group, the Missile Technology Control Regime (MTCR).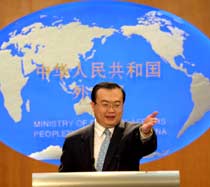 Liu Jianchao [filephoto]

The body's chairman, Carlos Sersale di Cerisano, said the regime will actively consider China's application, according to Chinese Foreign Ministry spokesman Liu Jianchao.

The 33-nation group, founded in 1987 by the G7 countries in Rome, held a round of talks with China this week in Beijing, Liu said at Thursday's regular news conference.

"Both sides believe that the two rounds of talks are of great significance to promoting mutual trust and understanding between China and the MTCR and international co-operation in the field of non-proliferation," said Liu.

China had a first round of consultations on its joining the regime with representatives of MTCR in Paris in January.

The MTCR includes major nations such as the United States, Britain, Russia, Japan, Italy, France and the Ukraine. Two more rounds of talks are scheduled this year between the group and China to clear up "old differences" and to evaluate Chinese export controls to see if they conform with MTCR standards, sources said.

All current regime members would need to approve China's accession into the regime.

During his term as the MTCR's rotating chairman from September 2002 to September 2003, Mariusz Handzlik invited Beijing's participation in the group.

China sent a letter to the MTCR chairman last September indicating it was "ready to positively consider applying for joining the MTCR."

There were some clear public indications earlier this year of China's decision to formally join when Chinese President Hu Jintao was in Paris in January. A joint statement released after the meeting noted that France supports China entry into the body "at the earliest possible date."

China released a white paper on its non-proliferation policies and measures last December in which it outlined its attitude and measures taken on the export of missiles and related technologies.

China-India border talks

In response to news that New Delhi announced on Tuesday that the new National Security Advisor Jyotindra Nath Dixit will be India's new special representative for ongoing talks with China on border issues, Liu Thursday did not give exact dates for discussions between the Dixit and his Chinese counterpart Dai Bingguo.

However, External Affairs Minister Natwar Singh said the next meeting of the two special representatives would be held soon.

Dixit replaces Brajesh Mishra, who, as the Vajpayee government's security advisor and special representative, has already conducted two rounds of talks with Dai Bingguo.

The Sino-Indian boundary question was left over by Britain colonialists.

China and India share a 2,000-kilometre border, with disputed areas of about 125,000 square kilometres.

The two countries fought a brief war over the border in 1962, which greatly impaired relations.
Today's Top News
Top China News

EPA: Handling pollution vital to China's progress




China seeks non-proliferation group status




Bush: CIA director George Tenet resigns




Taiwan spies to serve prison terms




Water price hikes expected in Beijing




Southern alliance rises on the Pearl