Water price hikes expected in Beijing
By Li Jing (China Daily)
Updated: 2004-06-03 22:34
For an unprecedented reform of its water pricing system, a public hearing was held Thursday in the capital on major water price hikes, apparently making residents and businesses brace up for the increases.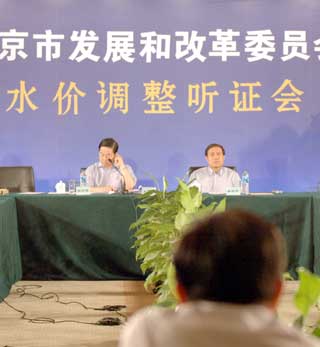 A price hearing is held in Beijing to solicit opinions and suggestions from all circles about a proposed water price rise June 3, 2004. [newsphoto]
The majority of the 30 public delegates attending the water price hearing gave consent to the proposals that the price of water be raised by some 30 per cent on average.
Once endorsed, the charge on average will be lifted to 5.14 yuan (62 US cents) per ton from the current 4 yuan (48 US cents).
Debates are expected to be heating up as other municipalities and provinces, nearly all suffering from water shortages, would follow suit. As well, inflation remains a major concern.
The delegates, representing consumers, industrial circles and government departments, urged pricing authorities to give special consideration to low-income groups and provide them with subsidies in case there is a price hike.
Many of the delegates also pointed out that the Beijing Tap Water Group and related government organs should make more efforts to restore dilapidated pipelines and prevent water leaking and waste in many places.
At Thursday's hearing, which lasted about four and a half hours, the city's water bureau, the tap water group and the drainage group put forward three proposals respectively to ask for price hikes in terms of water resource fees, tap water fees and sewage treatment fees.
According to the proposals, the general water price -- grouping the three above different fees -- for residents, will increase to 3.7 yuan (48 US cents) per ton from current 2.9 yuan (35 US cents).
Meanwhile, a progressive water pricing system, which had been discussed for a long time before the hearing was held, was proposed to be carried out starting from July 1 this year.
Under the new system, residents will have to pay much more for use of extra amounts of water.
Liu Suoxiang, deputy general manager of the tap water group, said the progressive pricing system has three different tiers based on the water consumption of a household monthly.
Liu said the new charging plan took a four-member family as the model, and the basic level of water quota is three tons per person every month.
So the basic quota of a household is 12 tons a month, with the price of 3.7 yuan (45 US cents) per ton, Liu said.
Families need to pay up to five times more for water exceeding the quota.
The highest fee level targets luxurious water use such as for family swimming pools, and its prohibitive price is expected to encourage people to save water, Liu said.
He noted that families with four or less members take up over 90 per cent of the total households in Beijing, so the water quotas are acceptable for the majority of households.
Most of the deputies at the hearing agreed to adopt such a progressive water charging system, but some of them suggested that its overall implementation around Beijing should be postponed.
Liu Zhiqi, one of the deputies and also secretary of the China Water Association, said the local authorities can try the new system in several communities first and then spread it to the whole city.
He pointed out that in many traditional courtyards, there is only one water meter for three or more households.
The water group and related authorities should step up updating the water meters to ensure the progressive charging system can be carried out in a smooth way, said another deputy Zhang Ying.
Apart from the reform of water charges for residents, the overall price will soar to 100 yuan (US$12) per ton for bathing sector and 60 yuan (US$7.30) per ton for the car washing and purified waters industries, according to the proposals.
Beijing Development and Reform Bureau Deputy Director Chai Xiaozhong said imposing prohibitive water prices on bathing and other water-consuming businesses was aimed to use prices as policy leverage to curb the development of these industries.
Chai said his bureau would make some changes on the proposals based on the opinions and suggestions put forward by the deputies, and then submit the revised version to the municipal government for approval.
Today's Top News
Top China News

EPA: Handling pollution vital to China's progress




China seeks non-proliferation group status




Bush: CIA director George Tenet resigns




Water price hikes expected in Beijing




Southern alliance rises on the Pearl




Like Clinton, will Bush face the grand jury?