Pre-exam anxiety leads to stress syndrome
(People's Daily)
Updated: 2004-06-03 15:07
As the annual college entrance examination "hell" approaches (June 7 - 10), it is not only the high school candidates who suffer through pre-exam purgatory. Their parents, who feel obligated to make every sacrifice to help their children, are subject to enormous stress as well. And sometimes both parents and children can fall prey to Parental Stress Syndrome.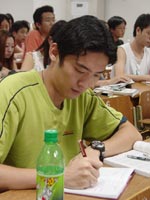 A students sits for his the college entrance examination which falls on June 7-10 annually. [file photo]

Ms. Zhang, whose daughter is preparing to take the college entrance examination, has a home at Yuquan Road. But her daughter goes to school near Beijing's Qianmen area, about an hour's commute from the house. With two hours on the road every day, plus meals and sleeping, she has little time left to study.

"Now the teachers are telling the students to spend all their time reviewing, and her father plans to hire a tutor to help her. Time is precious for her at the moment," says Zhang.

She and her husband decided to move to a place closer to their daughter's school. But the rent for the new apartment is 2,500 yuan a month -- Zhang's entire monthly income -- and the parents have to spend more time commuting to work even though their daughter spends less. Still, they believe their daughter's future depends on this sacrifice.

Many students lose weight under the strain of preparing for exams, but Shang's daughter has gained ten kilograms. "My child is using up her mental and physical energy; so I have to keep her strength up," says Shang, who works at an IT enterprise at Beijing's Haidian District.

In addition to a normal breakfast, she sends her daughter to school with a morning snack of two eggs and a container of milk. She cooks the girl's favorite foods for every meal, and has added various nutritional supplements and health tonics to her daily diet since she started her third year of high school. "I can't do anything else to help her study. All I can do is feeding her well. I have no idea whether the tonics do any good, but I think at least they are harmless. All the other parents do this, and we have to conform. I force her to drink the tonics. I think this is our responsibility as parents."

"Since my son entered the third year of senior high, I haven't watched TV," says Ms. Wang. Their house is small, and Wang and her husband believe that maintaining a quiet environment for their son is essential. They tiptoe around and speak in whispers when their son is studying at home. Wang has told all her friends and colleagues not to phone her at home; even important things must wait until the next day. She and her husband talk less and less these days, and sometimes they just use notes to transfer information.

"We have almost no recreation at all for the sake of my son. But we can bear all this if our son can do better on the exam."

"There is a book that says students are under great pressure facing the imminent college entrance exams, so I took my son to see a psychoanalyst a few days ago. We shouldn't be concerned only about nutrition, but also about his mental and emotional condition." Mr. Zhang says. As the boy is preparing for college, he feels that naturally he should devote himself wholeheartedly to his son. Caring for every detail of the boy's life is his key task, from diet to clothes, from physical to mental.

"My son used to like say hello and chat with us, but now he speaks little," says Zhang. "Often he becomes impatient when we ask about his studies, or sometimes he ignores us and slips into his room. His teacher told me that many students have resentful feelings toward teachers and parents because of the pressure."

Zhang heard a story about a high school student who developed severe depression because of the extreme pressure he felt before the college entrance exams. Depression plagued him through the entire first semester of university. This has made Zhang worry about his son, so he has sought advice from some mental health clinics.

Students aren't the only ones who may end up sick from the pressure. Parents can fall prey to emotional or physical stress-related illnesses as well.

In the past two years, Ms. Wang has had a number of days off from work owing to health problems. She wants to use the time to supervise her son's studies. But during the weeklong May Day holiday, her son defied her and spent half a day out having fun. Wang was so upset at his disobedience that she found herself unable to eat or sleep. Her chest felt constricted and her heart began palpitating. The doctor said that her heart problems have no physical cause: the dysfunction stems from excessive tension and anxiety.

Mr. Zhao's once-obedient daughter recently become a rule-breaker, seeking every excuse to watch TV, play on the computer or do anything except study. As he thought about the upcoming college entrance exams, Zhao's worry turned to anger, and then turned into a heart attack.

Yu is a student at Beijing's No. 119 High School. He complains, "Every day I have to listen to my parents' lectures, stay up until midnight under their watchful eyes. The meals are really good, but I can't take my parents' lectures every day. I don't know what I will do if I fail. I will be totally humiliated if I can't satisfy them by getting into college."

In the past few years, parents have begun demanding a quieter environment during the exam period. Some have even called for special air and bus traffic controls. Others guard the perimeters of the examination rooms, ensuring that noise is kept to a minimum.

But this sort of excessive worrying from the parents just adds more pressure to their children. Some experts say that third-year high school students are emotionally mature enough to face some of the necessary pressures of life.

Nevertheless, the pre-exam period is nerve-wracking for them. They can become easily irritated, and any little emotional attack may cause them to blow up. Difficulty in some area of study or a bad result on a simulated exam can depress them. The parents should talk with their children and find ways to help them ease the tension, rather than adding more. Excessive care and attention may do more harm than good, and should be tempered with a modicum of benign neglect.
Today's Top News
Top Life News

Like Clinton, will Bush face the grand jury?




Nation plans IPR defence strategy




Gov't pays residents for wrong arrest




President highlights role of science




Doping cases published under strict rules




TV: Italian hostages in Iraq alive, well