Best of British in frame
(Beijing Weekend)
Updated: 2004-06-03 14:47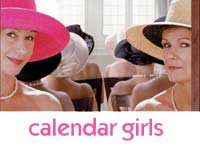 The best of British film comes under the spotlight in Beijing next week with the launch of a special showcase.

Ten of the most popular recent classics and new releases from the UK will be screened at the British Film Festival.

The 10-day event will open on June 11 at the Star City cinema at Oriental Plaza, running until June 20.

The films, including Calendar Girls, Gosford Park, Touching the Void, Last Orders and Wondrous Oblivion, will be screened. The same films are first being shown at the 7th Shanghai Film Festival which runs until June 13.

Special screenings for film industry professionals and students will also be held at the Beijing Film Academy.

The films, unlike Hollywood productions that are commercially distributed around the world, are rarely found in China - but they are every bit as artistic and entertaining, according to Colin Chinnery, Arts Manager with the Cultural and Education Section of the British Embassy.

"The American film industry is so big that we cannot avoid its influence on our film production," said Keith Davies, First Secretary of the section. "However, you can still identify a British film from an American film. We have our own styles of humour and sensitivity.

"Through the festival we hope to showcase some of our creative talents and to introduce Chinese movie-goers to the unique, original qualities of British cinema."

A film delegation consisting of John Woodward, CEO of the UK Film Council, and Ben Gibson, Director of the London Film School, will also be in attendance at the festival.

The event, co-organized by the Film Bureau of the State Administration of Radio, Film and Television, is part of a film exchange programme between China and the UK. A China film festival was held in the United Kingdom last October.

In conjunction with the film festival, a multi-media exhibition by one of the top visionaries of the UK film industry, onedotzero, will be held at the Today Gallery in Haidian District.

Onedotzero are recognized internationally as leaders in the digital image field and have exhibited as part of many international film festival programmes.

This is the first time onedotzero has travelled to China. It will present an exhibition and screening of the latest digital and new media motion pictures from the UK, including short films, digital animation, computer game concepts, music videos and advertising.


Movie Times

Date

Tiime

Name

Jun 11 (Fri)

19:00

Calendar Girls

Jun 12 (Sat)

18:50

Plots with a View

Jun 13 (Sun)

18:50

I Capture the Castle

Jun 14 (Mon)

18:50

About a Boy

Jun 15 (Tue)

18:50

To Kill a King

Jun 16 (Wed)

18:50

Last Orders

Jun 17 (Thu)

18:50

Gosford Park

Jun 18 (Fri)

18:50

Wondrous Oblivion

Jun 19 (Sat)

18:50

Bridget Jones's Diary

Jun 20 (Sun)

18:50

Touching the Void

Price: 40 RMB for adult, 25RMB for students