UN envoy urges Iraqis on new government
(Agencies)
Updated: 2004-06-03 00:33
U.N. envoy Lakhdar Brahimi urged Iraqis on Wednesday to accept the country's new interim government, while acknowledging a strong American hand in shaping it. The largest Shiite Muslim party charged important and popular political figures were excluded.
Brahimi also called for a dialogue with "patriotic" elements of the anti-U.S. insurgency, saying that easing Iraq's violence is vital for elections, the next major step toward democracy.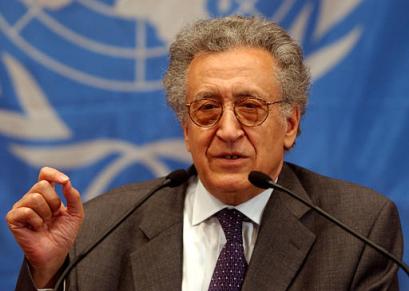 Special U.N. envoy Lakhdar Brahimi speaks to the press at a news conference in Baghdad, Iraq Wednesday June 2, 2004. Brahimi urged Iraqis to accept the new interim government and to work toward national elections - the next major step in the country's advance toward democratic government. [AP]
The 33-member government, announced Tuesday by Brahimi and representing Iraq's range of religious and ethnic groups, takes power June 30 and will rule Iraq until new elections due by Jan. 31.
Brahimi suggested that the United States had wielded considerable influence in the selection process through the U.S.-led coalition and its chief administrator, L. Paul Bremer.
"I sometimes say, I'm sure he doesn't mind me saying that, Bremer is the dictator of Iraq," Brahimi told reporters. "He has the money. He has the signature. Nothing happens without his agreement in this country."
The new government may not be perfect but it was the best one possible under the circumstances, the former Algerian foreign minister said.
"Will every Iraqi be satisfied of the present government? Definitely not," he said. But "many Iraqis, if not all" will find members who they feel represesent or are "close to them."
The Supreme Council of the Islamic Revolution in Iraq, or SCIRI, Iraq's most influential Shiite party, expressed reservations about the "mechanisms of dialogue" used in selecting Cabinet members.
SCIRI also complained of the "marginalization and exclusion" of what it called popular political and Islamic personalities.
It did not elaborate, but party appeared to allude to reports of heavy-handed methods used by U.S. officials in Baghdad employed to ensure that the next government was not hostile to American policies in Iraq.
The new government was announced after Iraqis pushed through the head of the Governing Council, Ghazi al-Yawer, as president after U.S. favorite Adnan Pachachi stepped aside. Some on the council complained that U.S. officials had tried to impose Pachachi.
Brahimi said the upcoming election ! which will create a national assembly that will form a new government ! is "the most important (next) step."
"If security does not improve significantly over the next few months, there will be a problem," he said, adding that he had reason to hope security would "improve significantly by the end of the summer."
He urged the new Iraqi leadership to approach "patriotic" elements among the guerrillas who have waged a campaign of violence against the U.S.-led occupation.
"Why is there, what is I think, to use a neutral term, there is this insurgency?" he said. "I think it's a little bit too easy to call everybody a terrorist. And I think if you find out that there are people who are not terrorists who are respectable, genuine Iraqi patriots you must find a way of talking to them."
Iyad Allawi ! a secular Shiite and a longtime opposition figure known for his close ties to the State Department and the CIA ! was chosen as prime minister of the new government in large part because he is seen as strong on security issues.
The U.S.-picked Governing Council dissolved on Tuesday, and the new Cabinet ! a prime minister, a deputy premier for security and 31 ministers including six women ! began taking over day-to-day operations of government ministries, although the U.S. coalition remains the sovereign power until June 30.
Among the first tasks of the interim government will be to negotiate a crucial agreement on the status of U.S.-led international forces that will remain here after sovereignty is restored to tackle the country's tenuous security situation.
More than 800 U.S. service members have been killed since the invasion of Iraq in March 2003, and Sunni and Shiite insurgencies continue.
At the U.N. Security Council on Tuesday, the United States and Britain circulated a revised resolution that would give the interim government control over the Iraqi army and police and end the mandate for the multinational force by January 2006 at the latest.
But France, Russia and Germany said they were still not sure if the revisions went far enough. They have pressed for the resolution to grant the Iraqis genuine power over their own national affairs.
Iraq's new foreign minister, Hoshyar Zebari, was traveling to New York to join the debate.
A committee has been set up to prepare for a national conference that in turn will choose a 100-member Consultative Council, which will oversee the new government, Brahimi said.
SCIRI also demanded that a consultative council be given legislative rights and absorb those who were excluded from the Cabinet.
Brahimi has said the council will be more than an advisory body but not a full legislature.
Brahimi also said Wednesday that Grand Ayatollah Ali al-Husseini al-Sistani, the most influential Shiite cleric in the country, has been kept informed of developments in the process of choosing the new government.
But Brahimi made clear that al-Sistani was not directly involved in the negotiations that led to the selection of a president, prime minister and the 32-member Cabinet.
Al-Sistani's views are respected by most of Iraq's Shiites, who make up about 60 percent of Iraq's population. He has yet to make public his opinion of the new government.
Shiites have played a key role in politics since the overthrow of Saddam Hussein nearly 14 months ago and are likely to emerge as the most powerful constituency after the January ballot.
The Cabinet draws its membership from Iraq's ethnic, religious and cultural mosaic, bringing together lawyers, politicians, academics, human rights activists, engineers and businessmen from a broad spectrum. It contrasts sharply with Saddam's regime, which revolved around a Sunni Muslim clique from his hometown of Tikrit.
Today's Top News
Top World News

Like Clinton, will Bush face the grand jury?




Nation plans IPR defence strategy




Gov't pays residents for wrong arrest




President highlights role of science




Doping cases published under strict rules




TV: Italian hostages in Iraq alive, well