Gov't pays residents for wrong arrest
By Fu Jing (China Daily)
Updated: 2004-06-02 23:28
Three Hunan Province residents will be compensated after spending a month in jail for refusing to move out of their homes to make way for a new department store.
Lu Shuide, Li Huiming and Li Aizhen, who live in Jiahe County in the Central China province, are expected to get State compensation from the local procuratorate ranging from 1,500 yuan (US$180) to 1,800 yuan (US$216).
Lu Shuide, aged 68, was detained by local police on April 26, accused of using violence to resist law enforcement and interfering in public affairs.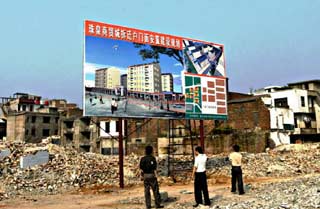 The dismantling of homes at Jiahe County has stopped since an investigation started into local officials forcibly removing residents to make way for a department store. [newsphoto]
Lu said he just wanted police to protect private property. At the time, he was a guest in Li Huiming's home, which was forcibly dismantled on April 24.
Lu and Li were later arrested by local police and procuratorate.
It was not until a team of lawyers from Beijing's Tsinghua University got involved that the latest deal was reached.
The team, headed by lawyer Xiao Taifu, said the procuratorate of Jiahe County did not wholly admit its malpractice.
"They admitted the wrongful arrest but didn't reveal why they approved the arrest by local police," Xiao told China Daily in an exclusive interview Wednesday.
Also through the lawyers, some government staff fired for failing to convince the families to move out, got their jobs back. The push to remove the residents was the result of a deal between the government and a developer.
Xiao said the forced evictions were not only a misuse of the county's administrative power but also against the Constitution.
The local police and procuratorate set the three free on May 28 after they heard that the lawyer group was set to render legal aid for the residents.
China Central Television reported that the local government illegally supported the evictions.
The possibility of illegal deals was also raised in editorial comments that pointed out the land was sold for only 1.3 per cent of the market price.
Jiahe County sources said the deal to build the Zhuquan Department Store is a project that will serve local people and the long-term development of the county.
Ministry helps end disputes
In response, provincial authorities sent an investigation team to Jiahe. And the Ministry of Construction also sent an investigation team headed by Vice-minister Liu Zhifeng.
Now, the relocations have stopped but no immediate results were achieved.
"I'm not upbeat about the development of investigation because you know, the ministry cannot have a direct say over such a complicated real estate programme," said Xiao, who just returned to Beijing.
Earlier reports cited Jiahe's press office as saying that the three residents were arrested because they refused to move out even after receiving compensation from the real estate developer.
"It is already a big amount that Li Huiming... received in compensation, more than 200,000 yuan (US$24,200)," the press officer said.
Residents disagreed.
Li owns a five-storey building in downtown areas of the county.
Annual rent from the ground floor is 10,000 yuan (US$1,200), Li's agent, Guo Ting'an, told Beijing News, adding the compensation is far from enough.
Among the 372 households that are to be moved for the first phase of construction for the new mall, more than 60 have not signed deals with the real estate developer since last July.
According to the original plan, a total of 1,100 households will have to be relocated.
The Jiahe case is not unique. The problems arising from moving homeowners out of their houses to make way for city expansion and relocation have attracted national attention in recent years.
Complaints through letters and personal visits to related departments about forced demolition are on the rise.
Today's Top News
Top China News

Nation plans IPR defence strategy




Gov't pays residents for wrong arrest




Doping cases published under strict rules




President highlights role of science




UN envoy urges Iraqis on new government




Beijing SOE managers to be chosen by bidding