Grandparents' mentoring role questioned
(China Daily)
Updated: 2004-06-02 15:24
Fan Jianbin, a primary school teacher in East China's Jiangsu Province, recently wrote to the People's Daily to complain about his three-year-old daughter being spoiled by her grandparents.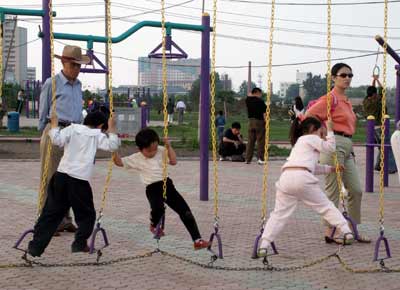 A grandfather stands beside a young mother while kids are playing on the swing. A recent survey suggests that more than 70 percent of children below the age of six in Beijing are cared for by their grandparants. [newsphoto]
The child lives with her grandparents most of the time because Fan and his wife are too busy with their work to take care of her, the letter states.
But to their consternation the young couple found their daughter has already formed many bad habits - including snacking between meals and being self-willed and lazy - because of her grandparents' dotage.
When they found some time to try to reform their daughter's bad habits during their holidays, the couple faced strong interference from the grandparents.
Fan says the grandparents are so doting upon the little girl that they do not allow her parents to scold her even when she does something wrong.
When Fan finally grumbled that overindulgence will do little good to the girl, his parents said: "We brought you up the same way. Aren't you all right now?"
The question put Fan at loss for words and he began to reconsider the role of so-called grandparents' education in ensuring the healthy growth of children.
Fan's story is typical of millions of Chinese families who depend on the help of grandparents in child-rearing.
A recent national survey suggests more than 70 per cent of children six years and under in Beijing are educated by their grandparents. The proportion reaches 60 per cent in Shanghai and 50 per cent in Guangzhou.
Experts estimate about half of Chinese children in cities live with their grandparents and receive grandparents' education.
Statistics show an estimated 10 million minors under age 15 in rural areas lack the care of one or both parents and nearly half of them did not do well in school after their parents leave home as migrant workers.
China Youth Daily recently reported that most of those rural kids are left in the care of their grandparents.
Hu Guangwei, a professor with the Sichuan Provincial Academy of Social Sciences, says children of migrant workers are vulnerable to physical and psychological abuse owing to the lack of parental care and affection.
A recent survey of 2,000 children of migrant workers in Renshou County of Sichuan Province indicates 48 per cent of them perform poorly at school, while 40 per cent are slightly under average achievers.
Wang Dong, a teacher with No 10 Middle School in Zigong, acknowledges that the grandparents of these children are mostly poorly educated and can read only a little better than the youngsters. They are therefore unable to help with learning.
But even for better-educated grandparents in cities, it remains a contentious issue whether their education is good enough to pass along to children.
Grandparents' role questioned
The debate has intensified as the Chinese Government is bent on improving the ethical, ideological and moral standards of children and young people across the country.
There are 367 million children under the age of 18 in the country, accounting for 28 per cent of the nation's population.
Among a package of proposals issued by the State Council, China's cabinet, on March 22, is one focusing on fostering and building good morality and behaviour in young people.
"As a whole, grandparents' education has proven to have more negative influences than positive ones on the children," says Professor Xin Tao with Beijing Normal University.
She stresses the elderly can afford to provide their grandchildren with a comfortable living environment rather than good education because they tend to indulge and dote upon their grandchildren in an unprincipled way.
Professor Xin adds that the situation has developed in China not least because most young couples have only one child and the grandparents fear any lack of care might hurt the child.
"In fact, too much protection from the grandparents will contain the development of the children's independence and self-confidence and thus contribute to their dependence on others and effeminacy," Professor Xin notes.
"Furthermore, traditional thought and some out-of-date concepts held by the elderly may also undermine the spirit of innovation and creativity in their grandchildren."
For instance, grandparents usually discourage children from any adventurous, tentative or destructive acts that may serve as a platform to develop their creativity.
The good side of being together
Professor Huang Haibo with Peking University, however, argues that grandparents enjoy particular advantages in family education, given their rich life experience.
First, grandparents have more time and patience than the parents to teach the children.
Second, elderly people boast of rich experience for bringing up and educating children and know how to treat children of different ages.
Last but not least, grandparents are able to create a relatively loose environment for the children to live and learn while not giving them too much pressure.
"Facts have proven that children raised by their grandparents enjoy at least stronger bodies and better protection than their counterparts brought up by their own parents," Professor Huang said.
The contradictory views from experts have prompted hot debate among young parents, who are challenging each other with their personal experience.
Ai Wu wrote in an on-line forum on xinhuanet.com that grandparents' education has led to lack of willpower, self-concern, exclusiveness and bad behaviour among most children.
On the contrary, another writer, Qi Yu, defended grandparents' education as "absolutely the right thing," citing the old saying: "The man who pays the piper calls the tune."
More people, however, have chosen to be impartial, admitting that grandparents' education has both advantages and disadvantages.
"The key issue is not who is bringing up and educating the children but what kind of educational thought you are using," wrote an anonymous participant in the forum.
Parents should do more
Chen Qiuyan, a master of pedagogy at Quanzhou Education College of East China's Fujian Province, says grandparents' education will remain a main education mode for most Chinese families in the foreseeable future.
Most developed countries in the West have established professional institutions with qualified baby-sitters to help young parents take care of and educate their pre-school children, she says.
But China, as a developing country, has yet to develop a similar system and most Chinese families must rely on grandparents to educate their young children.
"So the pressing task at present is for young parents and grandparents to find a better way to bring out the strengths of grandparents' education while making up for its weaknesses," says Chen.
She advises parents to engage in more effective communication with the grandparents and try to reach an agreement on how to educate the children.
For example, grandparents should not interfere when the parents are disciplining children for doing something wrong.
Meanwhile, the grandparents should pay more attention to moral education, such as respect for others, love for labour, and being modest, during the process of educating their grandchildren.
What's most important, Chen suggests, is that parents should shoulder more responsibility for educating their children despite their hard work.
"No matter how busy they are at work, the parents should devote more time and love to their children to get well informed of their physical and psychological growth," she says.
"Only by doing so can their children grow healthy in the rain of love."
Today's Top News
Top China News

10 years later, China issues new auto lines




FM urges early lift of EU arms ban




US agrees to time limit on troops withdrawal




30,000 km highways to create economic hub




Grandparents' mentoring role questioned




Tang: Beijing not behind radio hosts' leave