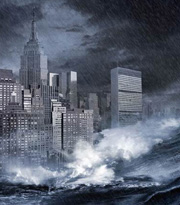 There was a time when talking about the weather was a safe topic of conversation.
Since global warming received its Hollywood makeover, such talk has stirred up controversy in scientific circles.
The much-hyped movie about climate change, "The Day after Tomorrow," which opens nationwide on May 28, depicts a series of catastrophes as the world plunges into a new ice age. In terms of accuracy, the movie is more science fiction than fact.
Scientists have given it a drubbing for its inaccuracies, but the movie has also garnered cautious endorsements for raising the profile of an important issue.
The premise -- rapid climate change -- is the subject of plenty of scientific studies, including a report commissioned by the Pentagon that deemed the event unlikely, "but plausible."
Yet the movie's depiction of the fallout from climate change stretches reputable science to apocalyptic proportions.
A few choice scenes from the movie include a presidential motorcade flash-frozen on the streets of New York, hail the size of grapefruit demolishing Tokyo, a mass migration of Americans into Mexico and a tidal wave that smashes New York City.
All of which is nonsense, scientists say.
"I think that someone watching "The Day after Tomorrow" should realize that when they come out of the movie they should know, that is not going to happen," said Dr. John Christy, professor of atmospheric science at the University of Alabama in Huntsville.
Not that the producers dispute that -- at least, not yet.
"The movie is fiction," states Roland Emmerich, Mark Gordon and screenwriter Jeffrey Nachmanoff on the movie's website, but add, "We'd like to keep it that way."
The movie clearly runs on more adrenaline than accuracy. It is not above a bit of lobbying either. The website links to organizations that tackle global warming and offers ways to learn about the issue.
Some have seized on this sensationalism as evidence that the movie's portrayal of global warming -- and the threat of climate change -- is alarmist.
"This movie takes a grain of truth and turns into a mountain of apocalypse," says Patrick Michaels, a senior fellow in environmental studies with the Cato Institute, a libertarian think tank.
(Agencies)