Army probing assaults, thefts by U.S. troops in Iraq
(Agencies)
Updated: 2004-06-01 09:36
The U.S. Army is investigating reports of assaults against Iraqi civilians and thefts of their money and jewelry by U.S. troops during patrols, raids and house searches, defense officials said on Monday.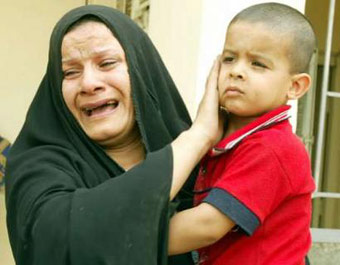 An Iraqi mother cries while holding her three-year-old son, after her house was destroyed in a U.S. air strike over Najaf May 28, 2004. [Reuters]


The probe by the U.S. Army's Criminal Investigation Division, or CID, suggests that a major scandal over abuse of Iraqi prisoners by Americans goes beyond detention centers into the homes and streets of the troubled country.

"There are a number of criminal investigations by the Army into allegations of assault, theft and other issues that extend beyond the investigations into activities at detention facilities," Defense Department spokesman Bryan Whitman said.

"I am not aware whether any of those CID investigations have been concluded," he told Reuters in response to questions about the reported incidents that have drawn angry complaints from Iraqis.

Whitman and other defense officials, who asked not to be identified, confirmed a report in The New York Times on Monday that the investigations of misconduct by troops had spread beyond detention centers such as the infamous Abu Ghraib prison near Baghdad.

Some U.S. soldiers have been charged with physically and sexually abusing prisoners at the prison and investigators are also looking at other centers in Iraq and Afghanistan in a scandal that has inflamed the Arab world and undermined U.S. efforts in Iraq ahead of the June 30 handover to an interim Iraqi government.

The Times reported that the Army was also investigating at least two dozen other cases, including the suspected theft of cash from Iraqis stopped by soldiers at roadside checkpoints, apparently under the pretext of confiscating money from suspected insurgents or their financial backers.

IRAQIS COMPLAIN OF AGGRESSIVE RAIDS

Iraqis have accused U.S. troops of stealing money and other property during what they said were aggressive and even destructive American raids on homes.

"It's a huge problem. Almost everyone has something to say about gold, money and other valuables going missing and they don't believe they'll ever get them back," Adel Alami, a lawyer with Iraq's Human Rights Organization told Reuters recently in Baghdad.

Over the past 14 months of occupation, U.S. forces have carried out thousands of raids on homes of Iraqis suspected of "anti-coalition activities."

The U.S. military says items are generally confiscated on suspicion they could be used to finance attacks against U.S.-led forces.

A spokesman for the U.S.-led coalition in Baghdad said last week he was aware of Iraqi complaints of theft during raids and that some U.S. soldiers had been disciplined for "inappropriate conduct."

He said a receipt was always given for confiscated items and if the owner was found to be innocent they could get the property back. But many Iraqis say no receipts were provided and raids often target the wrong people.
Today's Top News
Top World News

State caps prices on scores of medicines




Britain backs EU to end China arms ban




Peep-show victims in Japan seek justice




Hu has time for kids, plays ping pong




Bush acknowledges 'great costs' of war




4 held over murder of former Phoenix boss