Iraqi oil exports hit US$10 billion
(Agencies)
Updated: 2004-06-01 08:50
Iraqi crude oil sales since last year's U.S.-led invasion have hit more than US$10 billion, the U.S.-led authority governing Iraq said on Monday.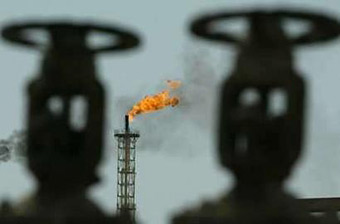 A tower at the Basra South oil refinery flares as it cooks off excess natural gas, May 20. , 2004. [Reuters]


The Coalition Provisional Authority had deposited a total of US$10.004 billion in its Development Fund for Iraq as of last Thursday, it said in an Internet posting.

Of the total oil proceeds put in the fund since it was set up on May 28, 2003, US$493 million was deposited during the week ending last Thursday, compared with $247 million the previous week, according to the provisional authority's Web site .

Apart from the Web site, which is updated weekly, the provisional authority provides no other public data on sales of Iraqi oil, such as volume or price information or the reasons for weekly fluctuations in deposits into the fund.

Under a May 2003 U.N. Security Council resolution, the Coalition Provisional Authority is required to deposit all the proceeds of Iraqi oil exports into the fund. The resolution was intended to ensure Iraq's U.S.-led civil administration was not engaged in any dubious practices in marketing the oil and was using the proceeds for reconstruction.

The United States and Britain have asked the Security Council to return to Iraq full control over its vast oil resources, beginning in July, but with continued international monitoring of how it spends the oil money.

Washington and London asked the Security Council to adopt a resolution that would again put Baghdad in charge of its natural resources after a new interim government takes back power on July 1 from the U.S.-led occupation authority, which has been administering Iraq -- and its oil and gas -- since May 2003.

But the draft resolution would also require the interim government to keep depositing the proceeds of its oil and gas sales into the Development Fund for Iraq, where it could continue to be monitored by an international watchdog agency.
Today's Top News
Top World News

State caps prices on scores of medicines




Britain backs EU to end China arms ban




Peep-show victims in Japan seek justice




Hu has time for kids, plays ping pong




Bush acknowledges 'great costs' of war




4 held over murder of former Phoenix boss