15 dead as bomb explodes in Karachi mosque
(Agencies)
Updated: 2004-06-01 08:40
At least 15 people were killed and more than two dozen injured when a powerful bomb exploded inside a Shiite Muslim mosque in Pakistan's violence-hit southern port city of Karachi, police said.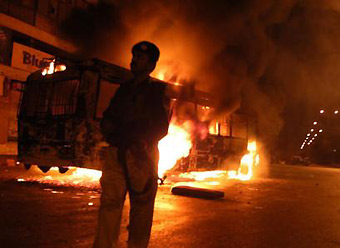 A policeman stands before a bus set on fire by angry poeple to register their protest against a blast in Shiite Muslims mosque, Monday, May 31, 2004 in Karachi, Pakistan. [AP]
The blast came a day after a prominent Muslim scholar was killed in the city triggering running street battles, and prompted President Pervez Musharraf to say he would take "major decisions very soon" if the situation was not brought under control in Pakistan's largest city.
Information Minister Sheikh Rashid reported the warning and said Musharraf was gravely concerned over the deteriorating situation but did not elaborate on what steps the president intended to take.
The blast came as dozens of worshippers were offering mughrib, or evening prayers, in the mosque located in the same area where prominent Sunni Muslim scholar Mufti Nizamuddin Shamzai was assassinated on Sunday.
"Some 15 people have been killed and 35 are wounded," police operations chief Tariq Jamil told AFP. Some of the injured were in serious condition, he said.
The dead and injured were rushed to different hospitals in the populous city. Police said a 10-year-old child was among those killed.
Witnesses said the explosion was so powerful that it caused cracks in the concrete dome of the mosque and gave graphic detail of one victim being blown to pieces by the explosion.
One worshipper, Mohammad Jamil, said he saw a man get out of a car and throw something inside the mosque.
"Immediately, as I was entering the mosque there were two loud explosions and then something hit me and I don't know what happened afterwards," he told reporters at Civili hospital.
The mosque floor and wall were splattered with blood and rescue workers were seen collecting limbs and pieces of human flesh scattered all over the place.
An angry mob immediately gathered outside and went on the rampage, burning a filling station and exchanging fire with police, witnesses said.
There were no immediate reports of casualties in the clashes.
The Shiite Imambargah, or mosque, is situated only one kilometer (less than a mile) from where Sunni scholar Shamzai was killed by unidentified assailants who sprayed his vehicle with bullets, also injuring his son and driver.
The assassination triggered violent protests and incidents of arson in the Binouri town area, where authorities had deployed large numbers of police and paramilitary rangers to contain the unrest.
No one immediately claimed responsibility for the bombing but Karachi police chief Asad Ashraf Malik was quick to describe it as an act of terrorism.
The teeming city of 14 million people on Pakistan's southern Arabian Sea coast has been gripped by violence since May 7, when a suicide bomb blast at a Shiite mosque killed 23 worshippers and injured around 100.
On May 25 parcel bombs killed two people at Karachi's busy port and on May 26 two successive car bombs near the US consul-general's residence killed one policeman and injured 32 people.
Today's Top News
Top World News

State caps prices on scores of medicines




Peep-show victims in Japan seek justice




Hu has time for kids, plays ping pong




Bush acknowledges 'great costs' of war




Bank auctions mortgaged assets




Iraq council delays choosing new leader