Bush acknowledges 'great costs' of war
(Agencies)
Updated: 2004-06-01 08:32
U.S. President Bush observed Memorial Day on Monday and acknowledged the "great costs" of the current conflicts in Iraq and Afghanistan.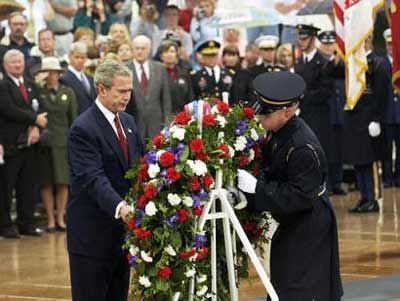 U.S. President Bush places a wreath during the Memorial Day ceremony at the tomb of the Unknown Soldier at Arlington National Cemetery in Arlington, Va. Monday, May 31, 2004. [AP Photo]
Atop a rain-swept hill in Arlington National Cemetery, the Republican president placed a wreath at the marble tomb of unidentified soldiers killed during the two world wars and in Korea, before bowing his head for a moment of silence.
He stood in the cemetery's marble-columned amphitheater to extol U.S. soldiers overseas and describe the Iraq of Saddam Hussein as a terror regime akin to Taliban-ruled Afghanistan, which sheltered Osama bin Laden and his al Qaeda militants.
"Through our history, America has gone to war reluctantly because we have known the costs of war. And the war on terror we're fighting today has brought great costs of its own," Bush said.
But he said since the September 11, 2001, attacks on America, U.S. service men and women have displayed "decency and their brave spirit."
"Because of their fierce courage, America is safer, two terror regimes are gone forever, and more than 50 million souls now live in freedom," Bush declared.
Bush spoke as the combined U.S. death toll in Iraq and Afghanistan climbed toward 1,000 and the U.S. occupation of Iraq has increasingly become a political liability for him.
With the approaching June 30 handover to an Iraqi interim government overshadowed by insurgent violence and a scandal over abuse of Iraqi prisoners, Bush's job approval ratings have hit new lows and stirred calls for the resignation of Defense Secretary Donald Rumsfeld, whom the president stood beside.
Clashes with Sunni and Shi'ite Muslim insurgents in Iraq raised the U.S. death toll there by more than 200 in April and May alone. The two-month figure compares with the 138 U.S. soldiers who died during the major combat operations in Iraq that Bush declared over on May 1, 2003.
Official Pentagon statistics show 802 U.S. dead and 4,682 wounded in Operation Iraqi Freedom as of Friday morning. Another 122 have died and 310 have been wounded as part of Operation Enduring Freedom, mainly in Afghanistan.
The official figures do not include at least five soldiers in Iraq and four in Afghanistan killed during the weekend.
Bush, who avoided combat in Vietnam while serving as a pilot in the Texas Air National Guard, has fashioned himself as a strong president presiding at a time of war for his re-election campaign against Democratic presidential candidate John Kerry, a decorated Vietnam veteran.
Bush spoke on Saturday at Washington's new World War II memorial and will visit France on June 6 for the 60th anniversary of the Normandy invasion.
Kerry made his own Memorial Day visit to the Vietnam Veterans' memorial, where he laid a wreath with the family of a soldier who died in 1976 of battle injuries he suffered in 1968. Kerry had pushed to have the man's name added to the list of 58,000 Vietnam fatalities.
Today's Top News
Top World News

State caps prices on scores of medicines




Britain backs EU to end China arms ban




Peep-show victims in Japan seek justice




Hu has time for kids, plays ping pong




Bush acknowledges 'great costs' of war




Bank auctions mortgaged assets