Hu has time for kids, plays ping pong
(China Daily)
Updated: 2004-05-31 23:31
President Hu Jintao joined hundreds of Beijing children Monday to celebrate the International Children's Day, chatting and even playing table tennis with the youngsters.
Children's Day is marked today.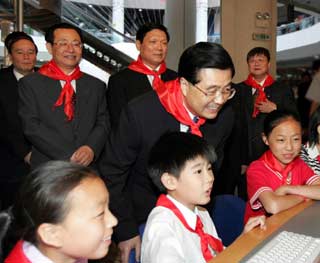 President Hu Jintao (centre) chats with children, as they show him the web pages that they created themselves, in the Beijing Municipal Children's Palace Monday May 31, 2004. Hu joined the children to celebrate the International Children's Day. [Xinhua]
The president visited the China Science and Technology Museum, a major local attraction for area children, as well as the Beijing Municipal Children's Palace.
Early Monday, Hu was welcomed by jubilant children at the museum as he took a close look at about 600 pieces of state-of-the-art materials and products with children tagging along, including the return capsule used in China's first manned space flight, two robot "dogs" capable of performing on command, and environmental protection models.
The president later visited the Beijing Municipal Children's Palace, the biggest of its kind in the capital and spacious enough for up to 5,000 children.
At the palace, Hu was shown web pages produced by children, and appeared interested as children drew pictures and later gave an art performance.
After enjoying the performance, the president chatted with the kids practicing on the basketball court, and played table tennis with one excited child.
During his talks with teachers and experts on children's education, the president said China should attach great importance both to the quality of academic and physical fitness of juveniles, and to their moral standards.
Hu called on society to create a sound environment for minors to grow up, saying the nation's youth are the future of the Chinese nation.
"China Youth Daily" reported last week that an estimated 10 million children under 15 lack the care of one or both parents and nearly half of them do not do well in school since their parents have left home as migrant workers.
Earlier this year, China made public a package of unprecedented proposals on creating a sound and better environment for its 367 million youngsters under 18 to grow up well, an environment free of narcotics and pornographic materials and other harmful products.
Today's Top News
Top China News

State caps prices on scores of medicines




Peep-show victims in Japan seek justice




Hu has time for kids, plays ping pong




Bank auctions mortgaged assets




New bank set to revitalize Northeast China




Guangzhou to compensate civet cat traders