Prices of 400 medicines reduced by 30%
By Fu Jing (China Daily)
Updated: 2004-05-31 23:31
Amid mounting complaints about exorbitant drug prices, State pricing authorities Monday mandated new price caps on several hundred types of medicines to reduce patients' and family's economic burdens.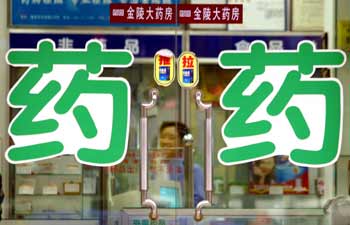 A saleswoman waits for customers at a medicine store in Nanjing, East China's Jiangsu Province. [newsphoto/file]
Prices of more than 400 medicines have been cut by an average of 30 per cent from previous caps set by the government in 2001. Affected medicines mainly include those frequently used to prevent infections.
The National Development and Reform Commission (SDPC), the state's pricing watchdog, said the move is expected to save consumers 3.5 billion yuan (US$422 million).
An NDRC official told China Daily the latest price cuts are designed to battle irregularities in the purchasing and sales of medicines.
The decreased prices were determined after consultations with medicine producers, marketing sources, doctors and members of the public, said the official, who declined to be identified.
"We will continue to cut the prices of basic medicines on the government's medical care list because price-cutting room is still there," said the official, whose commission is authorized to decide prices on those medicines and services which provide for basic needs of the public.
But the commission admitted that the government's overall efforts to cut "unreasonably high medicine prices" since 1997 have not been very successful, although several rounds of price cuts are aimed at helping patients afford medicines.
That's because in the past, prices were reduced only for antibiotics, so only a few patients could benefit. In addition, hospitals and pharmacies intentionally avoided selling medicines with prices caps, sometimes making the government's actions moot.
Some people, especially those who are not covered by medical insurance systems, are still skeptical whether this round of price cuts will work.
"I am not sure, because they always try to make these efforts but medicines and medical services are still too expensive for common people," said Jiang Jing, a 56-year-old unemployed worker who lives in Xicheng District of Beijing.
Jiang, who doesn't benefit from a medical care system, said he is afraid to be sick.
"You know, if I catch cold and buy medicines from a hospital, I will spend at least 200 yuan (US$24) each time," Jiang said, noting that such an expenditure is nearly half of his monthly jobless benefit.
Like many Chinese, Jiang's complaints and fears have resulted from illegal overcharging by hospitals, which often do under-the-table deals with medicine sellers.
Even NDRC official know that the higher the prices that hospitals sell medicines, the more benefits they will obtain from middlemen.
A recent irregularity that made headlines occurred at the No 6 People's Hospital in Beijing. It illegally allowed medicine marketers from a joint venture producer to sell highly priced pills there.
China News Agency reported that a bottle of the nutrition drug, which was originally priced at 30 yuan (US$3.6), was sold to a woman diabetic at a price as high as 380 yuan (US$45.7). In a tragic twist to the case, the drug caused the woman to die on March 28.
Although the government has frequently reiterated that hospitals should not overcharge patients, some hospitals are still raising the prices of medicine, medical services and disposable products for medical use, the NDRC said Monday in a circular.
According to the NDRC, in a bid to relieve patients' financial burdens, the government has fixed the maximum prices of more than 1,000 types of medicine, and, since October 1997, has reduced fixed prices on 10 occasions. In doing so, it has saved 18 billion yuan (US$2.2 billion) for patients.
The commission said that price administrations at various levels should continue examining the price of medicine and medical services, and punish violators by giving warnings, confiscating illegal income, imposing fines and revoking licenses.
The commission official said the government is exploring new ways of regulating medical prices under the framework of the market economy.
To resolve the existing problems, medical treatments and medicine sales should be managed separately, the medical insurance system be improved, and laws be perfected.
Today's Top News
Top China News

AIDS information shared with sex dealers




Prices of 400 medicines reduced by 30%




Britain backs EU to end China arms ban




Peep-show victims in Japan seek justice




Hu has time for kids, plays ping pong




Bush acknowledges 'great costs' of war