Tillman killed by friendly fire
(Agencies)
Updated: 2004-05-31 10:05
The shots that killed Pat Tillman, the former NFL football player who became a patriotic icon by giving up a US$3.6 million contract to become an Army Ranger, probably came from his fellow soldiers, US military officials said Saturday.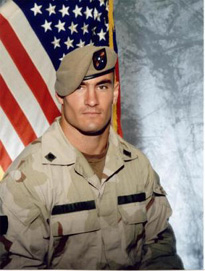 Former Arizona Cardinal Pat Tillman, shown in this June 2003 photo released by Photography Plus, was killed by friendly fire as he led his team of Army Rangers up a hill during a firefight in Afghanistan last month, newspapers in California and Arizona reported Saturday. [AP]

According to an Army investigation, Tillman was shot to death April 22 after a U.S. soldier mistakenly fired on a friendly Afghan soldier in Tillman's unit. Other U.S. soldiers then fired in the same direction.

Initial reports by the Army had suggested Tillman was killed by enemy gunfire when he led his team to help another group of ambushed soldiers.

"While there was no one specific finding of fault, the investigation results indicate that Cpl. Tillman probably died as a result of friendly fire while his unit was engaged in combat with enemy forces," Lt. Gen. Philip R. Kensinger Jr. said in a statement at the Army Special Operations Command.

Kensinger said the firefight took place in "very severe and constricted terrain with impaired light," with 10 to 12 enemy combatants firing on U.S. forces.

According to the Army's investigation, Tillman's team had split from a second unit when a Ranger, whom the Army did not identify, fired on a friendly Afghan soldier, mistaking him for the enemy.

Seeing that gunfire and not realizing its origin, other U.S. soldiers fired in the same direction, killing Tillman and an Afghan soldier. Two other Rangers were wounded.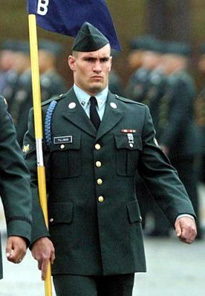 Specialist Pat Tillman marches as he performs the honor of being the guidon bearer during graduation ceremonies Friday morning, Oct. 25, 2002, on Sand Hill at Fort Benning, Ga. [AP]

Kensinger, who heads Army Special Forces, took no questions after reading the Army statement. An Afghan Defense Ministry official declined to comment on whether enemy forces were present, while U.S. military officials in Afghanistan referred all queries to Fort Bragg.

In Washington, Pentagon officials refused to comment on the Afghan report.

Tillman, 27, left his position as a starting safety for the Arizona Cardinals to join the Army after the Sept. 11, 2001, terrorist attacks. He was posthumously promoted to corporal and awarded a Purple Heart and Silver Star, one of the military's highest honors, for gallantry on the battlefield.

A woman who answered the phone Saturday at the home of Tillman's uncle, Hank Tillman, said the family would have no comment on the findings.
Today's Top News
Top World News

EU, China reach deal on coke supply




Bush keeps Saddam gun at White House




US, Iraqi council spar over new president




Swedish game banned for harming China




Hong Kong GDP surges 6.8% in 1st quarter




New bank set to revitalize Northeast China