US, Iraqi council spar over new president
(Agencies)
Updated: 2004-05-31 09:21
Iraq's Governing Council and the US-led occupation authority wrangled over which of two senior politicians should become Iraq's next president in one month, while a US patrol came under fire in Najaf, rattling a shaky ceasefire.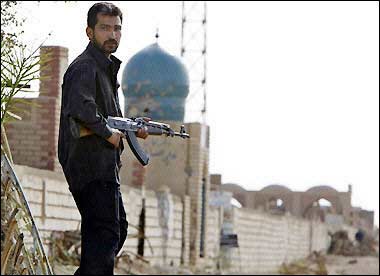 A militiaman of the Mehdi Army brandishing his rifle looks around during clashes with US troops in the Valley of Peace cemetery, in the holy city of Najaf, 120 kms south of Baghdad. [AFP]
The Governing Council was backing Sunni Muslim tribal chief Sheikh Ghazi al-Yawar, while US overseer Paul Bremer and UN envoy Lakhdar Brahimi were endorsing elder Sunni statesman Adnan Pachachi, according to Iraqi and coalition officials.
The dispute prompted the Governing Council to delay a decision on the presidency, a largely ceremonial post.
Pachachi told the US network ABC that the announcement of the new government would come Monday, but he denied that the council was playing a lead role in picking who will lead the country after the June 30 transition of power.
"The choice of the formation of the interim government has nothing to do with the Governing Council," Pachachi said by telephone.
"According to the law, this government will be formed as a result of extensive consultations with all strands of Iraqi society," he said.
Asked if had been tapped as president, Pachachi replied: "I will have to wait until tomorrow."
Meanwhile, a US patrol came under attack in Najaf, on the fourth day of a fragile ceasefire with radical Shiite cleric Moqtada Sadr and his private militia.
"Members of the Mehdi Army confronted it with rocket-propelled grenades and gunfire, forcing it to retreat," Sheikh Mushtaq al-Khufaji told AFP.
The clashes, which started around 9:00 am Sunday and lasted about one hour, erupted around the northern extremities of the city's vast cemetery, known as the Valley of Peace.
In Baghdad, at least two Iraqis were killed and five wounded Sunday when gunmen fired at a convoy of three sports-utility vehicles (SUV) on a busy road in northwestern Baghdad, a police officer said.
An AFP correspondent saw one body inside a white vehicle as a crowd gathered on the road, which leads to Baghdad airport where US forces are based.
Police Captain Saadun Aziz later identified the dead man as an Iraqi and said the second individual killed was an Iraqi civilian whose car was driving too close to the convoy.
The dead man, whose face was covered in blood, was wearing a combat vest and a pistol was resting on the floor of the vehicle.
North of Baghdad, two men were killed when a home-made bomb they were planting by a road near the oil refinery center of Baiji exploded prematurely, police said Sunday.
US officials have repeatedly said they fear an upsurge in attacks before the June 30 handover, and British Prime Minister Tony Blair said Sunday that he would decide within weeks whether to send more troops to Iraq.
Britain announced last week that it would send some 370 extra troops to its zone of occupation in southern Iraq, taking the total to 8,900. But the reinforcement was far smaller than the 3,000 troops referred to in press reports in recent weeks.
"There are all sorts of different options that are under consideration," he said.
"The important thing is we've got to remain there until the job is done, although I hope and anticipate that in a year's time there will be a very substantial reduction of troops from where we are now," Blair added.
But the political debate on who would become Iraq's first post-Saddam Hussein president cast a shadow over the efforts to establish a transitional government in just one month.
"It appears that the Governing Council is leaning toward Sheikh Ghazi and the UN and CPA are leaning toward Pachachi," a coalition official told AFP Sunday night.
Both Yawar, a leader of the Shammari tribe, one of Iraq's largest clans, and Pachachi, a former foreign minister, represent a progressive strain in the country's political arena.
"They are actually both very forward-looking moderate gentlemen," the coalition official said.
He refused to say why the coalition was not backing Yawar.
Kurdish Governing Council member Mahmud Othman was critical of the coalition's apparent failure to endorse Yawar.
"They want to impose someone on us. We won't accept this. This is not the way to hand over sovereignty," Othman told AFP, in reference to US officials.
Othman accused the United Nations and the coalition of conniving at the expense of Iraqis.
Othman said prime minister-apparent Iyad Allawi, whose nomination was announced Friday, was also a US choice.
"He was an American candidate. They brought him to the council. We supported him," he said. In return, the Governing Council wanted US officials to bless their choice of Yawar.
Neighboring Kuwait welcomed Allawi's selection, hoping it would help restore stability to the war-torn nation.
"The cabinet hopes that this step will help restore stability to Iraq for the brotherly Iraqi people to be able to build their country," Kuwait's cabinet said in a statement, carried by the state news agency KUNA.
Today's Top News
Top World News

EU, China reach deal on coke supply




Bush keeps Saddam gun at White House




US, Iraqi council spar over new president




New bank set to revitalize Northeast China




First Bohai Bay oil to flow ahead of schedule




Swedish game banned for harming China