Heavy smokers endure test of will
By Wu Gang (China Daily)
Updated: 2004-05-31 09:09
Zhao Jianguo has not smoked for three days.
For non-smokers, three days without smoking does not sound like anything worth mentioning. But for heavy smokers, it is like being in hell.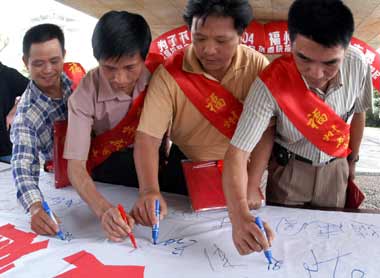 Zhao Jianguo, Zheng Hongying and Miao Meiyu (from left to right) sign a banner in a contest to quit smoking in Fuzhou, capital of Fujian Province. The four men, all heavy smokers, all went three days without smoking and each won a prize of 2,500 yuan (US$300). The event was held to mark World No Tobacco Day, which falls on May 31. [newsphoto]
"My reactions were so strong, I've never experienced this in my life," Zhao said in a telephone interview after he triumphed in a three-day contest to quit smoking in the city of Fuzhou yesterday.
A 45-year-old salesman with 30 years of smoking history, puffing on at least three packs a day, Zhao has already been suffering from heavy coughing in the mornings.
"I tried to quit four or five times on my own, but every time I ended up smoking even heavier than before," Zhao said.
This time, when the first contest to quit smoking was held in Fuzhou to mark the World No Tobacco Day of May 31, Zhao signed up. He and three other heavy smokers were chosen to be the last contestants to part from smoking in a transparent tent in public.
In less than 24 hours after the contest started on Thursday morning, he began to show symptoms such as drooling and shedding tears. Then he found he could not speak clearly, "as if being drunk."
The second day he went to the lavatory five or six times, whereas he usually visited the toilet once a day previously. The third day he found himself sleepless.
The other three contestants were no better. Lu Zhaohai could not sleep any more at about 5 am on Friday morning. Then he started doing push-ups to pass the time, according to a report from Southeast Express.
Zheng Hongying lost his appetite on the second day, and drank some beer instead.
When onlookers deliberately puffed smoke outside the tent, Miao Meiyu could not help searching for his own pocket for cigarettes, but to no avail.
Doctors said these are natural reactions. "The first three days are the most difficult period for smokers who stop smoking," said Doctor Lin Pusheng, who works in a hospital in Fuzhou.
But they will be freed from the physical dependence for nicotine after the first three days. And if they continue to avoid smoking for a month, they will possibly quit smoking forever, Lin said.
The four contestants all went smoke-free for the full three days, each collecting 2,500 yuan (US$300) for their efforts.
"For me, the quitting process has just begun. I will hang on through the next week, and next month, until I quit smoking completely," Zhao said.
Today's Top News
Top China News

New bank set to revitalize Northeast China




EU, China reach deal on coke supply




Bush keeps Saddam gun at White House




US, Iraqi council spar over new president




Swedish game banned for harming China




Hong Kong GDP surges 6.8% in 1st quarter