Top pro-Taliban cleric gunned down in Karachi
(Agencies)
Updated: 2004-05-30 14:44
A senior pro-Taliban cleric in Pakistan was gunned down by unknown assailants on Sunday outside his mosque in the southern city of Karachi, and his death triggered widespread violence, police and hospital sources said.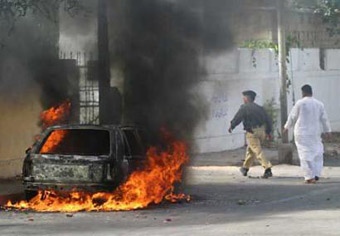 A Pakistani policeman walks past a burning car in Karachi May 30, 2004. A senior pro-Taliban cleric in Pakistan was gunned down by unknown assailants on Sunday outside his mosque in Karachi, and later his death sparked widespread protests, police and hospital sources said. [Reuters]


Mufti Nizamuddin Shamzai, who had called for a "jihad," or holy war, against the United States after the invasions of Afghanistan and Iraq, was wounded along with his son, a relative, a bodyguard and a driver, police said.

A police official initially said the cleric's companions included his three sons, but clarified the relationships later.

"He has expired," a hospital source said. "We have not yet announced it because there is a huge mob outside and we are worried about a law and order situation."

It was not immediately clear who was behind the attack or whether it was a sectarian killing.

A witness told Reuters that at least four men opened fire as Shamzai, one of the country's most revered Sunni clerics, headed for his seminary from his nearby home.

The private Geo television channel said the attackers made their escape by car and motorcycle.

Violent demonstrations broke out in several parts of Karachi, with small groups of Islamic militants and Shamzai's followers coming out on the streets to protest, pelting vehicles with stones and burning tires.

A Reuters correspondent at the scene said thousands of people, many carrying batons, had gathered near the seminary, located in a central commercial area, and had set fire to two banks and several shops.

"There is a lot of smoke in the air from the burning tires and building, glass is scattered all around from damaged vehicles, and people are really charged," he said.

"There is heavy shelling of tear gas and police fired gun shots in the air to disperse the crowd," another witness said.

PROTESTS, TEAR GAS, APPEAL FOR CALM

Protesters set fire to a police station, torching two parked vehicles and partly damaging the building, police said. Another witness told Reuters police used tear-gas to disperse smaller crowds at several other places.

Ishratul Ibad, the governor of the province of Sindh, of which Karachi is the capital, appealed for calm.

"I appeal to the people and to his supporters as well, we all equally share the grief, but cooperate with us and we will certainly catch his killers," Ibad said on Geo television.

Shamzai belonged to the hard-line Deobandi school of Islamic thought, which has provided thousands of fighters to the Taliban in neighboring Afghanistan. Several Pakistani Islamic militant groups considered him as their spiritual leader.

His seminary, known as Banuri Town, taught many students who later became important members of the Taliban regime in Kabul.

Shamzai led a delegation of Pakistani clerics and intelligence officials to the Taliban supreme leader Mullah Mohammad Omar with a secret message from the government soon after the Sept. 11, 2001 attacks on the United States.

At the time, militant sources had said Shamzai held a separate meeting with Omar to assure him of the support of Pakistani clerics.

The Taliban, accused of harboring Saudi-born Osama bin Laden and his shadowy al Qaeda network, were ousted from power by the U.S.-led attack in late 2001.

The industrial city of Karachi has seen a spate of militant and sectarian violence in the recent past. This month 15 Shi'ite worshippers were killed in a suicide bomb attack on a mosque.

Qazi Hussain Ahmed, leader of Pakistan's largest Islamic political party, the Jamaat-e-Islami, condemned the killing, saying the government had failed to protect spiritual leaders. "I am deeply anguished," he said on Geo television.
Today's Top News
Top World News

Hu,Bush hold phone talks




China plans FTA with New Zealand, Australia




English tests trigger gold rush in China




Nation in dire need of senior enterprisers




More funds to flow into agriculture technology




China joins nuclear group