Two arrested in children beheading slayings
(Agencies)
Updated: 2004-05-29 14:20
Two young men were arrested on murder charges Friday in the gruesome slayings of three younger relatives in an apartment. One was beheaded with a butcher knife, the others were nearly decapitated, police said.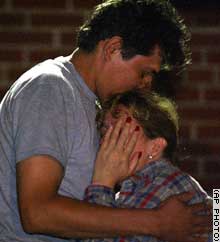 Two unidentified people grieve at the scene where three children were killed in Baltimore.

Police said the two men are cousins, but the Mexican government identified Policarpio Espinoza, 22, as the children's uncle and Adan Espinoza Canela, 17, as their cousin.

Investigators said they did not know the motive for the killings, and they did not disclose how they connected the suspects to the crime.

The children were identified by the principal at their school as 9-year-old Ricardo Espinoza; his 9-year-old sister, Lucero Quezada; and their 10-year-old cousin Alexis Quezada, a boy.

The bodies were found in two bedrooms of the first-floor apartment. Police found a butcher knife near the apartment and said they believe it was used in the killings.

The suspects were "emotionless" as they talked with detectives, Deputy Police Commissioner Kenneth Blackwell said.

The children had returned home as usual Thursday from Cross Country Elementary School and were found dead less than two hours later by a woman who was the mother of at least one of the victims. Neighbors heard screams from the woman, who speaks Spanish but little English, and called 911 for her.

"There's blood all over my apartment," a woman said in the 911 call, apparently translating for the mother. "They've killed my family!"

Parents and teachers at Cross Country hugged each other Friday morning and cried. Grief counselors were on hand for the 700 students.

Principal Matthew Riley described the slain children as "wonderful young people, lovely children, delightful to work with."

A relative said the family was originally from Mexico and moved from New York to Baltimore about three years ago. The relative said the family owns a food business.

The Mexican government's Foreign Relations Department said the children's parents -- Ricardo Espinoza, Mimi Quezada and Maria Andrea Espejo -- were undocumented immigrants. It wasn't known who the parents were of each child. The children were born in Mexico.

The slayings took place at the Samester Parkway Apartments in the Fallstaff neighborhood in the northwest corner of the city. The complex is not far from Pimlico Race Course, where the Preakness was held two weeks ago.

The apartment complex is surrounded by well-tended homes and green lawns. The Art Deco structure was added in 1998 to the National Register of Historic Places. The neighborhood is largely Orthodox Jewish, with a mix of white, black and Hispanic residents.

"They were very nice, cordial kids," said Al Johnson, who lives in the complex. "It's such a shock to everyone. "It's a very quiet, peaceful community."
Today's Top News
Top World News

More funds to flow into agriculture technology




China joins nuclear group




New rules to ensure lab safety




Economic crimes rise, disturb social order




Pakistan nuke-capable missile test




Allawi nominated as transitional Iraqi PM