National theater safe, putting on 'overcoat'
(Xinhua)
Updated: 2004-05-29 09:38
A new landmark building in Beijing, the National Theater, is having its glass shield fitted and the operation is expected to be completed before the end of June.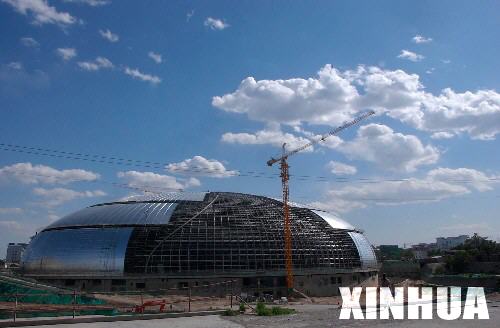 The National Theater is being built in Beijing, May 20,2004. [Xinhua]

Fitting of the 1,126-piece glass overcoat started on Wednesday, and after completion, people will be able to have a clear inside view of the glass-covered building, an architectural expert said.

The first piece of glass, four meters long, 2.29 meters wide and 700 kg in weight, is made of special materials that give it excellent transparency and appearance as well as sound endurance against weather abrasions.

By the end of June, all the plain glass will be fixed on the theater's oval-shaped metal skeleton, which involves complicated techniques, Luo Yi, chief engineer of the National Theater project.

Responding to the reinspection concern caused by the recent collapse of the Paris airport terminal, another work of the theater's designer Paul Andreu, Wang Zhengming, an official with the theater's proprietor committee, claimed that the theater will not be re-evaluated, because it is safeguarded by a well-rounded quality assurance system.

"The National Theater is constructed through the joint efforts of experts from both home and abroad. Though the outline was designed by Andreu, its inside structure and facilities were refined later by other experts and passed safety evaluation," an engineer at the spot was quoted as saying.


Today's Top News
Top Life News

More funds to flow into agriculture technology




China joins nuclear group




New rules to ensure lab safety




Allawi nominated as transitional Iraqi PM




Economic crimes rise, disturb social order




China, Malaysia consolidate relations