Deadly earthquake rocks Iran
(Agencies)
Updated: 2004-05-29 08:52
A strong earthquake registering 6.3 magnitude has killed at least 23 people and injured dozens of others in northern Iran, officials said.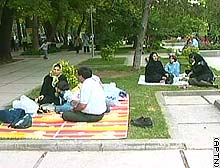 Iranians stay outside in Tehran, after an earthquake hit near that city.

The quake, which hit about 5:10 p.m. Friday, was centered about 70 kilometers (45 miles) north of the capital Tehran, according to officials with the U.S. Geological Survey and the Geological Survey of Iran.

Officials in the city of Noor said five people had been killed and 20 injured. Two additional deaths were reported outside Noor by other Iranian officials.

Officials with the Interior Ministry said 16 people were killed and 70 injured on the road between Tehran and the Caspian Sea.

Friday's temblor was the first major quake to hit Iran since last December's 6.6 magnitude event that virtually destroyed the ancient city of Bam, killing more than 25,000 people.

It was centered much deeper than the Bam quake -- 26 km (16 miles) instead of the relatively shallow 10-km (6-mile) Bam quake. Bam is about 990 km (610 miles) southeast of Tehran.

A resident of the coastal resort of Sari, near where state media placed the epicenter of Friday's quake, said no buildings had fallen.

"We felt it, it was strong, but as far as we could tell there was no damage," Babak Mousavinia told Reuters by telephone.

Vice President Mohammad Ali Abtahi said the Islamic Republic was not preparing itself for a big death toll.

The earthquake shook buildings in Tehran and people in the streets screamed, Reuters reported. People in the west of the capital said some windows shattered.

State television reported the quake was felt from the Caspian Sea provinces to the central city of Isfahan and the northwest city of Ardebil.
Today's Top News
Top World News

China joins nuclear group




Allawi nominated as transitional Iraqi PM




Economic crimes rise, disturb social order




China, Malaysia consolidate relations




Time to stop 'grey customs clearance'