At least 900 dead in Caribbean flooding
(Agencies)
Updated: 2004-05-29 08:35
Forecasters are expecting more rain Friday in the flood-soaked regions of the Dominican Republic and Haiti, where high waters have killed hundreds of people and left thousands more homeless.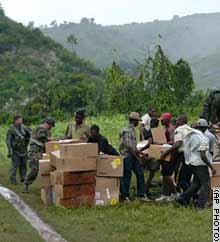 As much as 3 inches of rain are expected on the Caribbean island of Hispaniola, which the two countries share.
The Red Cross said that the death toll in Haiti and the Dominican Republic has risen to at least 900 and that 15,000 people have nowhere to live.
Violent storms hit the two nations last weekend, washing away hundreds of homes and destroying crops and livestock.
The Red Cross has launched an appeal for $725,000 to help thousands of people affected by the flooding. (Map)
U.S. and Canadian troops have rushed medical supplies and drinking water to waterlogged towns. The United States also was sending food and clothes -- packed into a dozen helicopters. Other nations also have sent aid.
U.S. troops have been stationed in Haiti since Haitian President Jean-Bertrand Aristide left office in February.
Rescuers were flying relief supplies to the Haitian village of Mapou, according to Staff Sgt. Timothy Edwards. He said water, which had been more than 10 feet deep in Mapou, is starting to recede.
Edwards said helicopter flights were going in Friday with relief supplies -- 64,000 pounds of rice, beans and cooking oil.
In addition, he said, another 19,000 pounds of rice and beans plus personal hygiene products were being flown to Fond Verrettes, a Haitian town on the border with the Dominican Republic.
Amy Bracken, a journalist in Haiti, said the country's Civil Protection Agency feared more than 1,000 people died in a single town.
Interim Haitian Prime Minister Gerard Latortue blamed deforestation for the flooding.
"The forest up through here has been completely destroyed. I say completely, but probably by 80 percent, and the root of the problem is that we have to go and reforest the hill and until we do that, every two, three, four years after some heavy rain the same thing could happen again," Latortue said.
Dominican Republic President Hipolito Mejia flew to his country's hardest-hit town of Jimani to see the destruction firsthand and declared Friday a nationwide day of mourning.
Jimani, about 100 miles (161 kilometers) from the Dominican capital of Santo Domingo, is inhabited mostly by Haitian migrants. The town is near the border with Haiti.
"We've been told that in some places, 200 homes have been washed away," said U.S. Ambassador Hans Hertell after surveying the town. "It's pretty grim."
Gen. Jose Maria Jimenez of the Dominican Republic Army said the total damage has not yet been realized.
"Even though the press has done a good job of informing the public about the tragedy, I believe the people don't have a good idea of the magnitude of this tragedy, which has affected Jimani," Jimenez said.
Today's Top News
Top World News

More funds to flow into agriculture technology




China joins nuclear group




New rules to ensure lab safety




Allawi nominated as transitional Iraqi PM




Economic crimes rise, disturb social order




China, Malaysia consolidate relations