Three die, 15 missing in flooding
(China Daily)
Updated: 2004-05-29 00:23
Three bodies were found Friday after flood water broke a temporary reservoir dam on Thursday and swept away 18 people, including 12 kindergarten children, in Central China's Hubei Province.
The bodies were of two children and a teacher, and the rest were feared all dead, Tan Yeping, spokesman of Enshi government told China Daily at 8 pm on Friday.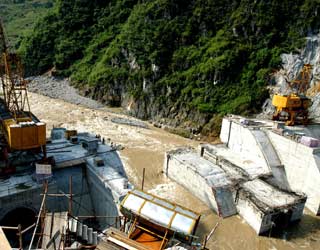 Eighteen people were washed away after a flood May 27, 2004 crashed this dam in Enshi, Hubei Province. Among them were 12 children and one teacher. [newsphoto]
The coffer-dam, a temporary barrier for excluding water from an area that is normally submerged, of the Dalongtan Reservoir in suburban Enshi collapsed suddenly at 5:49 pm after heavy rain continued from Wednesday to Thursday along Qingjiang River, a tributary of the Yangtze River.
The rainstorm was the biggest this year, with 65.9 millimeters of rainfall recorded in one day, local meteorologists said.
The 12 children, of Wangwang Kindergarten, were heading home in a minibus when they were engulfed by the flood, together with a teacher and a driver.
The flood also took away four construction workers working at the hydropower station behind the dam. They were reportedly trying to get their clothes as 17 fellow workers fled from the flood.
In response to the tragedy, Premiere Wen Jiabao Friday demanded local governments carry out rescue work quickly and deal with the aftermath quickly.
He also urged prompt investigation of the incident and wants to make sure the reservoirs are made safe during flood season.
Hubei Governor Luo Qingquan rushed to the site Friday to organize rescue efforts.
A special team from the State Anti-Flood Command Headquarters will arrive in Enshi today.
Local government mobilized local people, soldiers and armed police to comb the 200-kilometre stretch along the Qingjiang River.
The first body, of a three-year-old child, was reportedly recovered at about 9:00 am on Friday a kilometre from the dam site.
Rescue workers said they believed the mini-bus was totally wrecked by the turbulent flood waters as they found only the awning and two wheels.
Two other bodies were found later Friday.
Today's Top News
Top China News

More funds to flow into agriculture technology




China joins nuclear group




Economic crimes rise, disturb social order




New rules to ensure lab safety




China, Malaysia consolidate relations




Gov't to increase public role in ecology