US charges British Muslim cleric for hostage-taking
(Agencies)
Updated: 2004-05-28 10:53
The United States charged a radical Muslim cleric arrested in Britain on Thursday with aiding terrorists by plotting to create an al Qaeda training camp in America and supporting a hostage-taking attack in Yemen.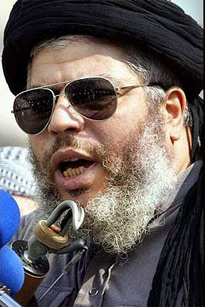 Radical British Islamic cleric Abu Hamza al-Masri, seen here in August 2002, appeared in a London court 12 hours after his arrest, saying he would oppose a US request to extradite him on terrorism charges. [AFP]

Just hours after police arrested Abu Hamza al-Masri in a pre-dawn raid in London, U.S. officials announced his indictment in Manhattan federal court on charges that could carry the death penalty.

Abu Hamza's arrest came a day after U.S. Attorney General John Ashcroft warned of a potential attack by al Qaeda in the United States. Some analysts have questioned whether the vague warning was politically motivated.

The 11-count indictment, which was returned by a grand jury on April 19, specifically charges Abu Hamza, 47, with giving "material support and resources to terrorists."

He is accused of having a role in a December 1998 hostage-taking attack in Yemen in which four people were killed and trying to help al Qaeda set up a "terrorist training camp" in Bly, Oregon, from October 1999 to early 2000.

Abu Hamza is also suspected of supporting violence by al Qaeda -- blamed for the Sept. 11 attacks in 2001 -- and the Taliban in Afghanistan by providing funds and services.

Accused Sept. 11 conspirator Zacarias Moussaoui and former Seattle community activist James Ujaama, who has pleaded guilty to trying to help al Qaeda militants, were both connected to Hamza's mosque in Finsbury Park, north London.

The indictment said some of his unnamed co-conspirators in these acts are U.S. citizens.

The Egyptian-born cleric, long a contentious figure in Britain, has one eye and a steel hook in place of his right hand from wounds suffered fighting with the Afghan mujahideen against the Soviet occupation in the 1980s.

Abu Hamza, also known as Mustafa Kamel Mustafa, has concerned U.S. authorities for several years with his preaching in praise of Osama bin Laden and the Sept. 11 attacks.

Ashcroft told a news conference in York that Abu Hamza was arrested by British police at America's request and the United States is actively seeking his extradition.
Today's Top News
Top World News

China: Foreign troops should leave Iraq before Jan 2005




3 children found decapitated in apartment




Release of new auto policy 'within days'




Unsafe blood collection targeted




Britain berated over Dalai visit




US: Cleric tried to start terror camp