Relief teams scramble as Caribbean flood toll grows
(Agencies)
Updated: 2004-05-28 09:25
Rescue workers on Thursday rushed food, drinking water and first-aid kits to a remote Haitian town submerged by floods that killed an estimated 2,150 people on the Caribbean island of Hispaniola.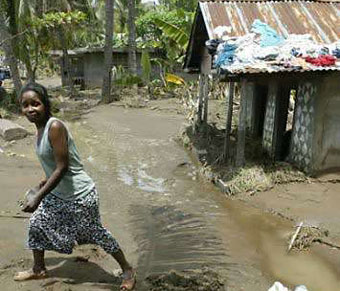 A Haitian woman tries to collect clean water in the L'Acul region of Leogane, near mud engulfed homes, after severe flooding in Haiti, May 27, 2004. [Reuters]


Across the border in the Dominican Republic, authorities prepared to spray disinfectant from aircraft over Jimani to prevent the spread of disease from decomposing bodies.

Overnight floods in the town killed hundreds of men, women and children and washed some of their bodies into a lake full of crocodiles.

An official on Wednesday reported 1,000 deaths in Mapou, a village southeast of Haiti's capital, dramatically raising the death toll from flash floods and mudslides triggered by torrential rains in Haiti and the Dominican Republic.

The toll in Haiti stood at about 1,800, while 350 bodies had been recovered in the Dominican Republic, mostly in Jimani.

Foreign troops sent to Haiti by the United Nations after a rebellion in February turned to relief efforts, providing helicopter flights to aid agencies trying to reach survivors isolated when roads were washed out across southeastern Haiti.

"Mapou is in the middle of a valley and the village is practically under water," said Lt. Col. David Lapan, spokesman for the multinational force. "It is like a lake when you look at it from the air."

Heavy rains last weekend sent rivers of mud and debris through villages, sweeping away shanties and burying residents on both sides of the Haiti-Dominican Republic border.

Haiti confronted its worst natural disaster in years less than three months after a rebellion killed more than 200 people and helped oust President Jean-Bertrand Aristide.

Helicopters provided by the 3,500-member U.S.-led peacekeeping force carried loads of beans, rice, water-purification tablets, shovels and other emergency supplies to Mapou, about 25 miles southeast of the capital, and to Fond Verettes, a border town where at least 158 died.

Thunderstorms grounded the flights late Thursday afternoon and brought more rainfall, adding to the misery.

Haiti is the poorest country in the Americas and four out of five of its 8 million people live in poverty. The barren land is vulnerable to floods and mudslides because people have virtually stripped it of trees to make charcoal for cooking.

Even in the best of conditions, remote Mapou can take three or four hours to reach from Jacmel, the nearest city on the south coast, said Sheyla Biamby, a spokeswoman for Catholic Relief Services in Haiti.

"There is no road access," she said. "It is very alarming, not many people can reach it to bring food and water."

The parish priest in the nearby village of Bodari walked for hours to find a working telephone, finally getting a call through to the Catholic Church radio station in Jacmel to report he had counted 350 bodies in his village.

"There are a lot of corpses that are floating on the water that nobody can reach. The population has no water, no food, and all the houses have gone," the priest, the Rev. Salomond Jerome, told Radio Efata.

Floodwaters polluted the springs that provided drinking water, leaving residents thirsty and desperate.

"We dig the earth when we see water, we wait until it clears and we drink it. My daughter got sick, she has fever. We did not even have medicine to give her but we still have to drink the water. We have no other choice," said 40-year-old Bijo Cadet.

International aid groups pleaded urgently for help from around the world.

"The situation in Mapou is very, very dangerous and much worse than we expected it to be," said Roromme Chantal, information officer for the United Nations Development Program.

Dominican Republic President Hipolito Mejia, who declared Thursday a national day of mourning, flew to Jimani and also appealed for international aid. Venezuelan President Hugo Chavez sent a planeload of food and relief supplies.

The Red Cross reported 350 dead in Jimani. Authorities said about 300 others were missing and 620 homes severely damaged.
Today's Top News
Top World News

China: Foreign troops should leave Iraq before Jan 2005




3 children found decapitated in apartment




Release of new auto policy 'within days'




Unsafe blood collection targeted




Britain berated over Dalai visit




US: Cleric tried to start terror camp