Season to flaunt bold style imminent
(Shenzhen Daily)
Updated: 2004-05-28 09:17
Now it is the season to flaunt your own bold styles and everything begins, yes, with your beautiful toes.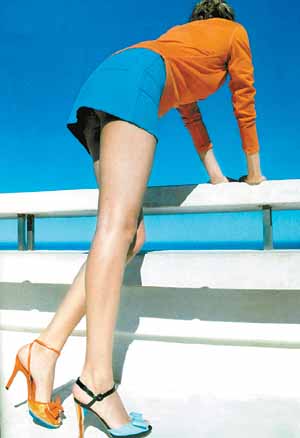 Boots in silver with Western appeal, or sexy sandals on tanned feet create a lovely feel for summer.
Sexy high heels
The thin high heels are never out of date for fashionistas seeking the perfect mix of sexiness, elegance and femininity.
With thick wooden soles and high heels a pair of yellow sandals looks sexy, especially when they are tied with yellow silk laces to best show off your slim ankles. Top off the shoes with a flirty, flower print cotton dress.
Another pair of high-heeled sandals is even more unusual. With an asymmetrical orange and azure design, it¡¯s the perfect match for dressing in the same colors, such as an orange top and an azure miniskirt.
Wooden soles are popular again this season and a simple pair of brown leather sandals displays a different look with such soles and ultra-thin laces.
Cool wedges
Wedges dominated the fashion stage years ago and this season they¡¯re walking back to center stage. And why not if you can boost your height rather comfortably?
This time, though, the focus is on the heels. Colorful prints on the wedges¡¯ heels make you a star instantly and the skinny snake print laces add an even cooler touch to the shoes. Don¡¯t forget to paint your toes with the same blue color.
The heels are in shining colors -- red, blue, yellow - that create a light mood in the hot summer. You can also stride in stripes. For example, a wooden wedge with red accents on the grain that match the vibrant red leather laces.
Cute flats
Cute lovely flats are always a hit.
A red strawberry on the flat¡¯s vamp linking the two white leather laces will definitely create the coolest look of the season. Another black flat with extraordinarily big pink petals not only looks cute but adds an additional touch of glamor.
Today's Top News
Top Life News

China: Foreign troops should leave Iraq before Jan 2005




3 children found decapitated in apartment




Release of new auto policy 'within days'




Unsafe blood collection targeted




Britain berated over Dalai visit




US: Cleric tried to start terror camp